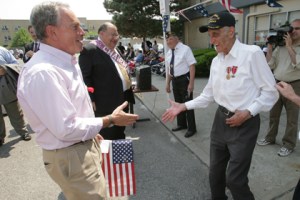 Michael Bloomberg's money gives him a decent chance of being re-elected, political experts say.
Adam Lisberg wonders if Bloomberg is goading Anthony Weiner into running.
A second New York City resident died of the flu, but the city isn't saying who she is.
Democratic State Senator Brian Foley still hasn't taken a position on same-sex marriage.
It's unclear if Nassau Democrats will support the re-election of Nassau Legislator Roger Corbin, who is indicted of tax evasion. [2nd to last item]
Say hello to Mike Czin, the new D.N.C. spokesman for the northeast. Representative Louise Slaughter's spokesman, Frank Benenati, is the D.N.C. spokesman for the northwest.
John Del Cecato, congratulations.
"Come on, why don't you try?" Rudy Giuliani reportedly said to a man who threatened to punch him.
The man, John McCluskey, said Rudy Giuliani "threatened to kick my ass."
McCluskey has more to say.
Andrew Cuomo said state government has to reduce spending, not just cap the rate of growth.
Another internal poll from a Manhattan district attorney candidate shows the race going towards Richard Aborn.
Pedestrians like the new Broadway. Motorists don't.
Sheldon Silver wrote a letter and saved the M6 bus in Manhattan.
For a decade, $1 million in city funds have gone unused because a local nonprofit funded by Miguel Martinez can't come up with a viable plan.
Here's a lengthy look at reducing the size of government in Westchester.
Here's the data that supports the case for extending mayoral control.
A teacher at Francis Lewis High School (where Deputy Mayor Dennis Walcott graduated) argues against mayoral control.
Stephanie Gaskell takes Memorial Day seriously.
Larry Littlefield celebrates his 3rd anniversary blogging on Room 8, and asks for help.
Gatemouth opposes John Heyer, a conservative-leaning Democrat who was endorsed by I.N.D.