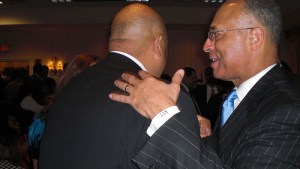 Spock is backing Bill Thompson.
Clyde Haberman mocks Michael Bloomberg's lavish spending.
"The whole campaign at this point is overkill," said chairman of Fordham's political science department, Bruce Berg.
Bloomberg is giving a job to Anthony Como as part of his deal to get the endorsement from Queens Republicans, reports the Times Ledger.
Bloomberg said "there is no right answer" to how to prevent this flu epidemic.
There may be a second flu-related death in the city.
Michael Daly says the city is bumbling its response to the flu.
Bloomberg is facing resistance from Senate Democrats who don't want to renew mayoral control.
The city's new health commissioner did not fully embrace his old suggestion of closing bath houses and other venues in order to crack down on AIDS.
Fordham University did not tell Archbishop Dolan about its plans to give Bloomberg an honorary degree.
The New York Times editorial board notes that Obama is not calling for the repeal of the Tiahrt Amendment.
Michelle Obama came to promote the arts.
"Now it will be largely up to Schumer to shepherd his protégé through what remains of her primary peril," the Hill says.
Jon Cooper's senate exploratory committee has a web site.
Jarrett Murphy takes a lengthy look at Bill de Blasio.
Citizens Union wants to get rid of the Board of Elections.
A second lawsuit was filed, this one in Manhattan, by parents and the teachers' union, accusing the city of unilaterally making decisions about school zones.
Rosie Mendez's challenger is 18-year-old Dodge Landesman.
And Tom Suozzi's big announcement is that he's running for re-election.