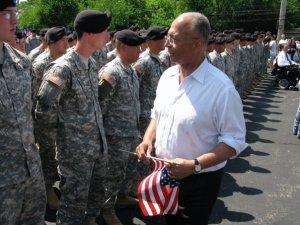 The widow of the man who died of the H1N1 flu criticized Michael Bloomberg for telling New Yorkers they're "lucky" the city hasn't been hit by a more severe strain.
Closing schools "has absolutely nothing to do with the spread of the disease," Bloomberg also said.
New, younger principals trained since Bloomberg took over public schools aren't doing as well as their older predecessors, according to a New York Times analysis.
72.7 percent of students at the UFT Charter School meet or exceed reading and math standards, but the Post says that's nearly 10 percent behind other charter schools.
The New York Post criticized Diane Savino is for not understanding school legislation she introduced.
More localities want the federal government to back municipal bonds (something Bloomberg has urged earlier).
Fear that crime will rise isn't tempered by statistics saying otherwise.
Brian Tumulty says confusion and conflict have marked Kirsten Gillibrand's campaign so far.
Steve Cuozzo warns that New York could wind up looking like "Ralph Kramden's 'Chef of the Future,'" which is not a good thing.
Bloomberg's ambitious park plans have been downscaled.
A writer from London says that he dined next to Bloomberg recently.
Bloomberg once told Seth Abraham of HBO that he's "wasting" himself and that he could have another career.
The New York Times editorial board is excited about Data.gov.
Lawsuits against the MTA cost millions.
The explosion outside a Starbucks on the Upper East Side may be connected to similar incidents around Manhattan over the last four years.
It may be also connected to an incident in Providence, RI last year.
Chesley Sullenberger's co-pilot doesn't like a plan to put a garbage site near LaGuardia Airport.
David Paterson has plans for a new ethics commission.
Speaking of ethics, Eliot Spitzer gets no sympathy from this Albany columnist.
The reporter who had breakfast with Pedro Espada in the Bronx apartment the senator says he lives in admits, "I didn't look in the closets" [2nd item].
Parents in the outer boroughs are angry that families in Manhattan got their overcrowding issues addressed.
Tom Suozzi is accepting bids for a property he's quietly trying to sell.