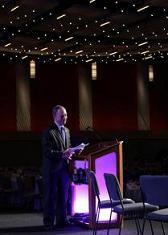 Bill Thompson said he didn't know a friend of his, William Howell, earned $3 million as a placement agent on an investment made by the comptroller's office.
Andrew Cuomo subpoenaed companies associated with former state comptroller Carl McCall.
Former Giuliani official Peter Powers' firm was also subpoenaed. McCall's firm made about $50,000 from those fees, while Powers' made $150,000.
Cuomo's investigation into deals involving the New York State pension fund has spawned similar inquiries nationwide.
Actor Ben Affleck said his friend Anthony Weiner is "more dynamic than a lot of people I met" in Congress. (Affleck also notes, "Anthony is a bit more Likud, and I am a bit more Labor.")
Weiner missed a handful of votes in Congress on days he played hockey in Manhattan.
Michael Bloomberg criticized parents who protested at City Hall about long waiting lists to get into kindergarten.
Chris Cillizza says Bloomberg's press conference in Washington with Al Sharpton and Newt Gingrich, after the three met with President Obama to talk about education, is "must see television."
Bloomberg will meet with Ireland's Minister of Foreign Affairs, Michael Martin.
Nicole Gelinas and others consider what it means that the M.T.A. has a short-term solution, but not a long-term one.
The surveillance tape allegedly showing Hiram Monserrate dragging his girlfriend out of his apartment building will not be shown publicly before his trial.
"You'll have to cope with it at trial. It's inevitable that it's going to come out," the judge told Monserrate's lawyer.
Frank Padavan wrote a letter on official state stationary asking for leniency for former Assemblyman Brian McLaughlin, who will be sentenced on May 14.
Padavan was the only lawmaker to voice support for McLaughlin.
Chairman of the finance committee of the Nassau County Legislature, surrendered to federal authorities after he was accused of accepting $226,000 from a developer.
Joel Klein is ordering principals to fill teaching vacancies from a list of teachers already on staff with the Department of Education, including some with questionable records.
There are some exceptions to Klein's new hiring rule.
Test scores are improving at schools in Bill Perkins' district, even though he said mayoral control has been a "failure."
Former Assemblyman Steve Sanders, who helped create the mayoral control law, says Bloomberg should retain control of schools.
David Paterson spoke to Amsterdam News and defended his record.
Jerry Skurnik disagrees with Steve Kornacki, and is not ready to write Paterson's political obituary.
The editors at Urban Elephants wonder if there's anyone else besides Joe Mendola running for comptroller. They also are unsure whether green initiatives fit into the platform.
Christine Quinn has an op-ed in the Daily News calling for rates of rent-stabilized apartments to be "frozen" this year. (The board just voted to raise rates, but by less than in previous years.)
Gale Brewer is complaining about the quality of kosher food being delivered to some seniors.
"Unless New York does the smart thing, they're going to be stuck with mediocrity," Judge Judy said at an event where she endorsed Leslie Crocker Snyder for Manhattan D.A.
Meghan Clyne writes an op-ed questioning Charles Rangel's role in cracking down on tax loopholes.
Cindy Adams describes the scene at Leslie Crocker Snyder's breakfast with lawyers. Adams also drops a mention to Eric Gioia who "kissed the regulation number of babies" at another event.
A former city health commissioner will be considered by Congress for the top job at the Food and Drug Administration today.
Peter Vallone Jr. wants cell phone companies to tell residents in advance of plans to erect cell towers in the community.
John Catsimatidis will make sure there are fireworks at the 100th anniversary of the Queensboro Bridge later this month.
Mount Vernon Councilman Marcus Griffith will run for city comptroller.
There's turmoil at the union representing carpenters.
"It's late in this game, and we don't have a lot of time to stop Iran from developing long-range missiles and nuclear weapons," Robert Morgenthau told the Senate Foreign Relations Committee.
Barbara Walters had a memory lapse when talking to Barack Obama.
And a new political company seeks to match advertisers with political websites.