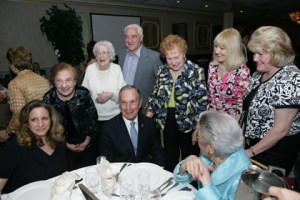 Sheldon Silver said he supports mayoral control, but that there needs to be "more involvement" from parents and "more transparency."
Danny O'Donnell tries everything to get colleagues to vote yes on same-sex marriage. Assemblyman Greg Ball, who is set to run for Congress, said he'll vote no.
Raising the sales tax in the city could cost 1,200 jobs, said City Council members.
Bloomberg's budget director said it's not possible to quantify how many jobs may be lost by raising the sales tax. Jimmy Oddo said Bloomberg's campaign knows how to quantify jobs saved, so this calculation shouldn't be too hard.
One result of raising the sales tax: higher tips for waiters, perhaps?
Michael Barbaro has more on Anthony Weiner blaming Michael Bloomberg for planting negative stories about him. "I never walk away from a fight," Weiner said.
St. Johns College Democrats wonder if Weiner will launch his mayoral bid today.
Bloomberg stopped another proposed military flyover.
Steve Cuozzo is glad Bloomberg is focusing his efforts at Ground Zero.
Bloomberg's coalition of mayors may agree with the N.R.A. on a gun-control proposal.
A web site that could, one day, rival Google does not know who Bloomberg is.
Of the White House Correspondence Dinner afterparty, Vanity Fair writes "Jon Bon Jovi buttonholed New Jersey governor Jon Corzine and Mike Bloomberg to talk issues. Don't be surprised if the dude runs for office."
Christine Quinn unveiled new rules for demolishing buildings, spurred by the Deutsche Bank disaster.
Pedro Espada has been told to clean up his campaign finance records.
Espada has one week.
Bob Kappstatter talks to Espada's neighbors, and finds out he's not there often.
Despite his arrest, Kevin Parker pocketed his lulu already.
Cy Vance said recent trial experience is important to becoming the next Manhattan D.A. Richard Aborn hasn't personally tried a case since 1992. Robert Morgenthau hasn't personally tried a case since 1982.
Betsy Gotbaum reflects on her tenure, and says, "By virtue of that mandate, you are in a contrarian position. And I'm not a contrarian person."
Tom DiNapoli said he doesn't want to take campaign money from people doing business with the state pension fund.
Rudy Giuliani is getting into corporate security.
Bob Herbert says the press is very race-conscious when covering crime stories, and not in a good way.
The city now gives people financial advice for free.
And Hempstead Supervisor Kate Murray did not attend a recent meeting about a local lighthouse.