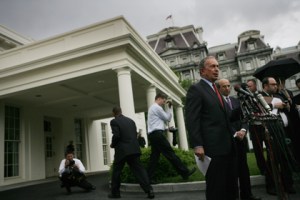 Barack Obama's spokesman said the president won't make any endorsement in the New York City mayor's race.
Later, Obama's spokesman explained, "I was suggesting [that] we weren't making an endorsement of Mr. Bloomberg."
"There is not going to be a primary!" Chuck Schumer yelled out during a fund-raiser for Kirsten Gillibrand.
Kevin Sheekey, at the White House. No tie.
The number of students reading at grade level rose sharply, but critics wonder if the tests are getting easier.
David Brooks cheers the schools in Harlem that "eliminated the black-white achievement gap."
Rupert Murdoch "made a surprise $5.5 million donation" to the Harlem Village Academy.
Joe Williams says New Yorkers have to do a better job of holding the mayor more accountable for schools.
Juan Gonzalez says charter schools have a disproportionately fewer students learning English as a second language, compared to other public schools.
"To mess with success like this would be criminal," writes the Daily News editorial board on mayoral control.
M.T.A. boss Lee Sander is leaving on May 22, and his "resignation does not appear to be of his own volition," writes Eliot Brown.
"The new chairman will also be chief executive, with responsibility for day-to-day operations," writes the Times.
Lee Sander said he didn't anticipate dealing "with the MTA's fiscal crisis in the context of a city, state and federal financial meltdown."
Andrew Cuomo investigates companies that say they'll help cash-strapped New Yorkers settle their debt.
There's a bill in the Senate to help tenants facing eviction from buildings where the landlord had defaulted on their mortgage.
Cablevision may spinoff MSG Network, the Rangers and the Knicks, "revealed in the last line of the company's earnings report."
The chairman of the Federal Reserve Bank of New York abruptly resigned yesterday.
Colleagues of Roger Corbin, the Nassau County legislator accused of evading more than $220,000 in taxes say the one thing he should not do is resign after June, when it's too late to hold a special election.
Unnamed sources say Corbin was working with developer Edward H. Hunter, Jr.
Trend setter: Michelle Paterson says, "Please. I planned this idea long before Mrs. Obama even got into gardening."
Eliot Spitzer hangs out, publicly, with his wife.
There could be layoffs in White Plains.
Alex Zablocki, candidate for public advocate, was endorsed by the Manhattan County Republican Committee.
Rezoning in Astoria gets underway.
And hey Kindle, it's pronounced O-ba-ma.