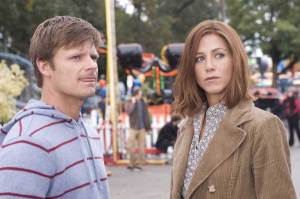 Management
Running time 93 minutes
Written and Directed by Stephen Belber
Starring Jennifer Aniston, Steve Zahn, Woody Harrelson
Stephen Belber's Management, from his own screenplay, is based on a one-act play he wrote as part of a projected series that took place in motel rooms. The series idea was abandoned, but the one-acter was eventually directed onstage by Mr. Belber's wife, Lucie Tiberghien. Now, the play's two central characters, Sue and Mike, have become the protagonists of his directorial feature film debut, with Jennifer Aniston cast as Sue, and Steve Zahn as Mike. Retained also were the notions of transience and mobility in American life experiences.
When Sue, on a business trip, checks into an Arizona roadside motel managed by Mike and owned by his parents, Trish (Margo Martindale) and Jerry (Fred Ward), the stage is set for Mike to make a play for Sue in the most painfully transparent manner by offering her free Champagne, ostensibly as part of a motel promotion. When Sue calmly asks Mike what he hopes to gain by his obvious pickup ploy, he answers frankly that at the very least he should be permitted to pat her butt as a possible prelude to you know what. Sue thoughtfully gives him permission to do just that and nothing more, and I frankly could not remember, in the long history of romantic couplings onscreen, a precedent for this opening maneuver, which Ms. Aniston and Mr. Zahn execute with breathtaking aplomb for five seconds that seem to extend to a mirthful eternity.
Up to this point, Mike has been living in a shell that threatened to encase him forever, while Sue has been consumed by her job as a saleswoman for a Baltimore company, with most of her emotional energy expended in charitable causes. As Mike later astutely observes, she has never spent any time exploring her own needs.
In any event, Sue and Mike consummate their still tentative relationship the next morning in the motel laundry room before she flies back to Baltimore. When Mike impulsively follows her across the country, he discovers to his dismay that she is involved with a yogurt tycoon, Jango (Woody Harrelson). Sue tells Mike that there is no future for them together when his life is so aimless and so lacking in serious purpose. The rest of the film is concerned with Mike's often farcical attempts to find his way in order to satisfy Sue's requirements.
All in all, Mr. Belber's narrative is nothing if not far-fetched, but his lead players are directed well enough to endow their screwballish characters with emotional conviction in the midst of the chaos and uncertainty of their tangled relationship. In this Springtime of our Discontent, Management offers a bit of sunny but not entirely silly escapism. In the process, Ms. Aniston, Mr. Zahn and Mr. Harrelson, along with the rest of the cast, continue their productive careers with full-bodied distinction.
asarris@observer.com