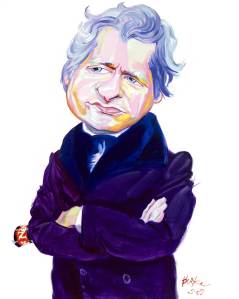 Jon Meacham, the editor of Newsweek, was pacing in a little corner of the basement of the Hilton Hotel in Washington at 6:02 p.m. on the evening of May 9.
It was two hours before the start of the White House Correspondents Dinner, that annual soggy, boozy, clammy hammerlock between journalists and celebrities that would happen upstairs, and the doors had just opened to Newsweek's annual pre-dinner cocktail party.
"Where's Mrs. Weymouth?" he whispered as he paced, and then again, a bit more urgently: "Where's Mrs. Weymouth?"
He was slouching, arms folded, in a baggy tux no designer would claim. Lally Weymouth, the rangy D.C. doyenne and daughter of Katharine Graham, was supposed to anchor the hosting duties at the party, helping to greet the dozens of celebrities who these days flock to the dinner and its surfeit of attendant pre- and post-parties.
He only had to wait a moment more before Mrs. Weymouth arrived and gave him his first assignment: Entertain Natalie Portman. Looking petite and exquisite in a black halter dress, she glided with the editor to an empty part of the ballroom where she congratulated him on his Pulitzer Prize. Ms. Portman was the first that evening to praise his prizewinning biography of Andrew Jackson, American Lion, but not the last. He crinkled his nose, closed and opened both eyes in a sort of twitchy wink and whispered thankyou and thankyousomuch. The party photographer snapped a few and was finished with them, and you could hear the conversation grinding to a slow, slow halt until Austan Goolsbee, the young Obama economic adviser, sidled up. Mr. Meacham brightened.
"I was just looking at the numbers," he said to Mr. Goolsbee, diving into a mini-lecture on Bush 41, Bill Clinton, Barack Obama, polls, the economy, history. When Mr. Goolsbee responded, Mr. Meacham held his chin thoughtfully with his right hand. Ms. Portman stood by affecting engrossment, but with a slightly strained smile. Mr. Meacham's gaze didn't return to her, Austan Goolsbee consumed his attention.
When Mr. Meacham got back to Lally Weymouth's side to greet people at the door, he was promptly flooded by hearty hellos and good wishes from an estimable roster of D.C. muckety-mucks.
"It is so deserved, it is so deserved," said Madeleine Albright (about the Pulitzer.)
"Congratulations!" said Chris Wallace, the Fox News anchor.
"Well, look at this," said a beaming Colin Powell when he shook hands with Mr. Meacham.
Katharine Weymouth, Lally's daughter and the publisher of The Washington Post, the flagship of the company that owns Newsweek, spoke the kindest word of the bunch to Mr. Meacham, under the circumstances.
"You are doing so well," she said, "and you're making us look so good."
AT ALMOST 40, Jon Meacham, with his recessive posture, his slow gait, his bone-dry jokes, may not strike you immediately as the man who can make your magazine look good. But he has become the embodiment of Sunday-schooled fogeyish integrity in a journalism industry looking for heroes. With his Pulitzer Prize in biography, his boxy grey suits, his kindly Richard Kind underjaw, hollowed gaze, his website on Christian morality, his straight-arrow ethics, the journalistic establishment has awarded Jon Meacham one of the seats at the big table. He deliberates on "Meet the Press," he worries about Christian ethics on the radio, he writes sermon-like essays. He may not be a man for all seasons, but he has been declared a man for this one.
Next Monday, Newsweek will scrap the template that it has used for 76 years and replace it with a rethinking of the magazine. It will essentially be a monthly that publishes every week. It will be less slick, more weighty, unpretentious, a little boxy—like Mr. Meacham. It will be sent out to fewer but more serious people, and it is meant to appeal to a newly refined audience. The dark, bold, crowded Watergate-chasing, Richard Nixon-excoriating, Vietnam-corresponding, Wallenda tottering, jet-scrambling headlines and text that filled its pages for decades will be scaled down and replaced, in some parts, by a placid, graceful font used in a women's magazine.
And it's Mr. Meacham, the wonky, professorial editor who spends his summer days thinking about Andrew Jackson, Franklin and Winston, who is building a news-idea magazine for the Age of Obama. Unlike Time editor Rick Stengel, who plays host to lavish yearly parties where he's shoulder-to-shoulder with Oprah Winfrey and Jimmy Fallon, Mr. Meacham has seen that the next moment in journalism, the next moment in Washington, won't be about celebrity. It's about a certain youthful, confident, hyperstylized, beautifully packaged wonkiness. It will have to have its accessible, pop side. But it will be a very sophisticated kind of pop. Intellectually credible and focus-group-approved. Straightforwardness as interpreted by edgy design firms.