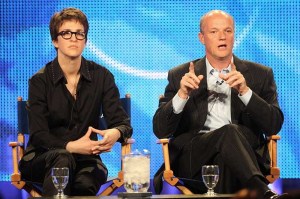 On a recent Thursday morning, John Kelly, an NBC executive who, among other jobs, oversees ad sales for MSNBC, sat in his office overlooking Rockefeller Plaza and fired up a presentation called "The Face Behind the Momentum."
Sitting at a desk, beneath a framed drawing of Uncle Sam with an NBC peacock logo on his hat, Mr. Kelly tapped away at a laptop computer. On the other side of the room, a wall-mounted flat-screen television flickered to life.
The presentation began with a graphical story, rife with pie charts and upward-facing arrows, about MSNBC's ratings growth since the 2006 midterm elections. The story progressed through the campaign primaries, shimmied through a Rachel Maddow victory dance, breezed over the excitement of election day and then lingered on MSNBC's ratings in March and April of 2009.
"Here's where we start getting into beating CNN in prime time," said Mr. Kelly, gesturing at the screen. A series of brightly covered graphics highlighted MSNBC's ratings. Various matrices showing Fox's continued ratings dominance in cable news lurked in near invisibility at the periphery. "We have Fox up there, too," said Mr. Kelly. "But they're hidden."
Anyhow. "This is what we look like," he said. "And, oh, by the way, we have scale. And oh, by the way, we are No. 2. And oh, by the way, CNN is in decline."
The presentation shifted from touting MSNBC's anchors to touting MSNBC's audience. A litany of buzzwords lit up the screen: progressive, young, professional, affluent. A video began.
"We are responsible leaders," read a deep voice, the sonorous words accompanied by stark notes on a piano. "We are committed to change. We are younger and engaged. We are connected to the Internet. … We are the ones who make a difference. … We are MSNBC."
The confident faces of young men and women of varying ethnicity looked out from the screen. A teacher posed in a classroom. A young Asian man, glistening with confidence and hair product, puffed out his chest. President Obama gazed out from a podium. An American flag waved in the wind. It was the United Colors of Benetton meets the Steelworkers of America meets Keith Olbermann meets President Obama meets MSNBC.
"Here's that subliminal messaging that we put forward," said Mr. Kelly. "We say we are the pulse of the nation right now. The change that this country voted for back in November is gathering each and every day and every evening on MSNBC."
The person the country voted for doesn't seem to mind MSNBC's advances a bit. On May 4, a CSPAN clip went viral that showed Kareem Dale, a special assistant to the president for arts and culture, telling the audience at a black-tie event, "At the White House, as we always like to say, we love MSNBC."
This is not a mistake. And it's not really a sentimental or political relationship. It's all business.
"A year from now, we will look back and say, 'O.K., have we moved the needle from the client who was spending 38 percent with CNN and only 18 percent with us?'" said Mr. Kelly. "Has that changed? I don't expect to get 38 percent in a year's time. But maybe we get ourselves to 28 percent or therein."
OVER THE PAST TWO MONTHS, FOR THE FIRST TIME in the network's 13-year history, MSNBC scored narrow prime-time (8 p.m. to 11 p.m.) victories over CNN in the key ad sales demographic (25-54), touching off celebrations at 30 Rock and a flurry of articles and blog posts questioning CNN's programming strategy.
Along the way, MSNBC had managed to translate a slight advantage in a narrowly defined criterion (in April, MSNBC averaged 298,000 viewers in the demo during weeknight prime time; CNN averaged 265,000) into a public-relations killing.
Now, behind the scenes at NBC, a more challenging task was kicking into high gear, as a team of revved-up ad salesmen feverishly struggled to translate MSNBC's embryonic and fragile claim as the No. 2 cable news network into something bankable in a brutal advertising environment.
For MSNBC, Lieberman Research Worldwide corralled some 1,300 cable news users into a series of focus groups. After much poking and prodding about programming preferences, values and consumption habits, the research team came up with five archetypes of cable news consumers: (1) conservatives, (2) optimists, (3) stringents, (4) enterprisers, and (5) passives.
According to the study's findings, MSNBC did particularly well among the optimists and enterprisers—an upwardly mobile, highly educated, cosmopolitan TV news consumer, more or less typified by spiky hair, a penchant for activism, affinity for gadgetry and love of Rachel Maddow.
Andrew Schulman, the director of marketing for NBC News networks, who was perched on a chair near Mr. Kelly, jumped in to explain how the marketing campaign had evolved from there.
"We re-branded those groups to work in the voice of MSNBC and the voice of our sales initiative," said Mr. Schulman. "We changed the names so that they were a little bit more direct, a little bit more salesy."
To wit: "Optimists and enterprisers" evolved into "movers and shakers," which ultimately gave rise to "changemakers." "That's our battle cry," said Mr. Kelly.
Back in November, when MSNBC began using "the power of change" as a tag line for the network, conservative critics howled angrily, citing the echo of President Obama's rhetoric as further evidence of MSNBC's liberal bias. But despite being dragged through the mud in right-wing corners of the Web, during recent months, the MSNBC marketers have, in a sense, flipped the proposition: Being associated with the Obama movement, they clearly believe, will be good for business, not bad.
Mr. Schulman stood up and handed The Observer an April 27 issue of Advertising Age, which was turned to a full-page ad touting MSNBC's audience. "WE, THE PEOPLE, the doers, the movers, the activators, live with purpose today, empowered by the promise of tomorrow," read the ad, which continued for several more declarative lines ("We watch, read and blog") before culminating in "MSNBC Changemakers … Join the Momentum."
"It's our manifesto, in a way," said Mr. Schulman.
The words of the manifesto were superimposed over the image of a man whose face was cut off by the top of the page and whose hands rested, palms up, in the foreground. The MSNBC model's complexion and body language called to mind … President Obama!
The presentation, Mr. Kelly explained, was one part of an overall strategy to gobble up some of CNN's market share. Just a few days earlier, he had traveled to Chicago with MSNBC's president, Phil Griffin, where they had sat down with dozens of advertising agencies and, again and again, told the representatives why their clients ought to be shifting their precious advertising dollars from CNN to MSNBC.
"Certainly, advertising budgets are not robust," said Mr. Kelly. "Some are contracting. The notion is—where am I spending the money for the greatest value?"
"CNN over time, being this strong brand, has elevated its price point such that, generally speaking, they are the most expensive cable news network out there," he added. "Fox and ourselves both take issue with that given their performance. Why would you continue to buy the premium CPM for the third- or fourth-rated network in our universe?"
"Look, it might not pay off this month or next month," Mr. Griffin said to The Observer a few days later. "It may not pay off until the first quarter of next year. But as long as we keep growing the way we are, advertisers are going to start to take notice. We want a bigger share of what they're investing in. Because we now deserve it."
ON MONDAY, MAY 4, AS PART OF A recently launched print campaign geared toward advertisers, MSNBC took out a full-page ad in the business section of The New York Times. The ad features the smiling head shots of Chris Matthews, Keith Olbermann and Rachel Maddow. "MSNBC beats CNN in Primetime," read big block letters. "Again." And below the fold: "Buy into the momentum."
When contacted by The Observer for a response, CNN representatives suggested that MSNBC might be overplaying their momentum to advertisers. The original cable news network does their integrated ad sales across all platforms, including its Web site, CNN, HLN (formerly Headline News) CNN Airport, iReport, etc., and thus arguably continues to offer advertisers much greater overall reach to consumers than MSNBC. When considering that combined reach, for instance, during the month of April, either a HLN or a CNN show topped MSNBC for second place in the demo in every hour between 6 p.m. and midnight, except for 9 p.m.
CNN insiders suggested that what advertisers pay CNN a premium for is not what MSNBC is delivering.
Mr. Kelly said that MSNBC's pitch to advertisers was bolstered in large part by an audience-segmentation study, which the network commissioned back in November on the heels of the election.
At the time, Mr. Kelly and his colleagues turned to Lieberman Research Worldwide, a firm already familiar to the brass at NBC Universal.
Several years earlier, Lieberman Research Worldwide had helped Bravo brand its audience the "The Affluencers"—a class of upwardly mobile, cosmopolitan TV consumers, identifiable by their spiky hair, stylish couture, willingness to throw disposable income at anything that accessorizes well with their BlackBerry or iPhone, and a love for Tim Gunn. For MSNBC, "Changemakers" was the result.
Throughout the discussion of MSNBC's audience, neither Mr. Kelly nor Mr. Schulman had said one word about their viewers' political inclinations. At one point, The Observer asked why the Lieberman study had pinpointed conservatives as an audience type but not liberals. Mr. Kelly immediately corrected us, pointing out that "conservatives" referred to viewers with particularly curmudgeonly consumption habits. It had nothing to do with, say, who they had voted for in the 2008 election.
So did they ever bring up the subject of the president's popularity and his legions of young fans in the meetings with advertisers? Not explicitly, said Mr. Kelly.
"In our presentation, we talk about how MSNBC is the pulse of the nation," he said. "It's an intuitive, subliminal sort of messaging that lines up nicely with President Obama, who is younger, progressive, affluent, well educated and a man of color, obviously."
"The country has voted for change—as demonstrated in the midterm and presidential election," Mr. Kelly added. "It doesn't surprise us that our numbers are growing."