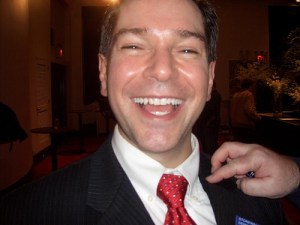 Two newly announced campaign managers for City Council races:
Assemblyman Mark Weprin, who is running for his brother's City Council seat in Queens, has hired campaign manager Dirk McCall.
McCall is a former president of Stonewall Democrats, and has worked on campaigns for Alan Gerson, Virginia Fields and Karen Bernstein. He's a fast-talking, always-smiling southerner who has the unenviable commute from his home in Astoria to the Weprin district, which is in Hollis, on the other side of the borough.
And Jimmy Van Bramer, who is running for the seat Eric Gioia is vacated in Sunnyside, just announced he's hired Brian Fritsch to run his campaign.
Fritsch was one of the regional coordinators who helped elect Scott Murphy to congress upstate. In a very polite email to reporters, Fritsch also noted he worked the Iowa '04 and '08 caucuses. So, Bramer will be well prepared for whatever corndog consumption he may have to endure this campaign season.
UPDATE: In other campaign news, Danny Kannerr, the press secretary for City Councilman David Yassky, has moved over to work on Yassky's comptroller campaign full-time. Starting today, Kanner will be the campaign's communication director.