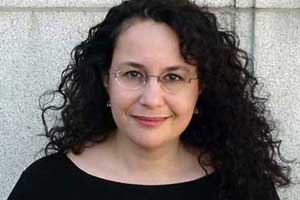 As the host of NPR's On the Media, Brooke Gladstone gets a lot of books in the mail about the crisis in journalism. Most of them she finds tedious and predictable, and they pile up in her office unread. So when literary agents and editors started calling her up a few years ago asking if she'd be interested in writing a book based on her radio work, she always told them no.
"They called me up because I had a quote unquote selling platform, and because I guess there had recently been a number of successful media books," Ms. Gladstone said. "I kept telling them I wasn't interested in writing any of these books, that I don't like these books, that I have a tendency to throw these books against the wall in my office."
But in fact, after 25 years of writing and thinking about the subject, Ms. Gladstone really wanted to write a book about media. The trouble for all those people calling was that she wanted to do the book as a science fiction graphic novel about a pair of reporters living in the year 2032. This idea, Ms. Gladstone said, was greeted mostly with eye rolls and uncomfortable shrugs.
So she worked privately on the project for six months. "It ended up turning into an action story with an extraterrestrial and evil pharmaceutical companies," she said. "I got off track, and my deeper message was obscured in all of the storytelling."
She dropped the science fiction angle but remained resolved to do the book in pictures. With her collaborator, Brooklyn artist Josh Neufeld (author of a graphic nonfiction book about Hurricane Katrina out from Pantheon this summer), she came up with an alternative plan: to write a manifesto on the role of the press in American history as told through a cartoon version of herself that would preside over each page. (Think Art Spiegelman meets Marshall McLuhan.) It was sold last month at auction by Jim Rutman of Sterling Lord Literistic to editor Tom Mayer of W. W. Norton.
Tentatively titled The Influencing Machine, the book will amount to "a treatise on the relationship between us and the news media," Ms. Gladstone said, explaining that the title is a reference to a psychological syndrome that has patients believing their emotions and thoughts are being controlled by some external device.
"I think part of the case I'm making is that people are not the passive consumers of media that they often present themselves to be– they are the shapers of the media," Ms.Gladstone said. "I think that technology is driving us closer and closer to a moment when there's not a separation at all, when the 'Influencing Machine' won't be outside of ourselves at all."
So why a comic book? "A lot of people ask me why do I want to do this in pictures, and it's a very personal decision more than a political or commercial or strategic one, because as counterintuitive as it sounds, this is the closest I can get to radio. I feel that it'll be a simulacrum of a radio presence, and that's how I communicate best. I write for radio; I have for more than 20 years. Radio writing looks different from regular text—it makes more sense in bubbles."
As she put it in her book proposal: "Consider this format a gauntlet thrown down in the arenas where the primacy of the written word is endlessly exalted. I love words. I live by words. But in an age when all media are converging, we had best concede that there are means other than text alone to convey complex ideas. In fact, in a world of ceaseless distractions, ideas that grab you by the eyeballs are more likely to stick."
lneyfakh@observer.com