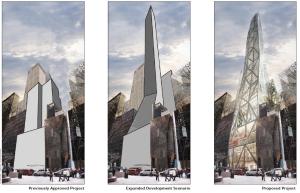 If recent history is any guide, neighbors will try to use the city's public approval process to block the construction of the 1,250-foot skyscraper that Jean Nouvel wants to build next to the Museum of Modern Art. That seven-month approval process began Monday, and eventually ends with a City Council vote on zoning for the architecturally acclaimed skyscraper.
But, according to documents filed with the Department of City Planning, the developer, Hines, is in more or less great shape regardless of what the City Council says: The firm has enough air rights to build a 1,089-foot tower on the West 53rd Street site.
On the other hand, Hines still needs the Council to change zoning to allow for an added 161 feet of height, loading docks and setbacks. Without those, the tower would likely lose its distinctive slant.
While it's unlikely Hines is ready to get a shovel in the ground tomorrow, the zoning changes would give the firm the ability to build the tower they want—a mixed-use tower with 786,562 square feet, 150 apartments, 100 hotel rooms, and 68,097 square feet for an addition to MoMA. The 1,089-foot tower would only have have 508,000 square feet.
The project as designed will require approval from the City Planning Commission and the City Council.
ebrown@observer.com