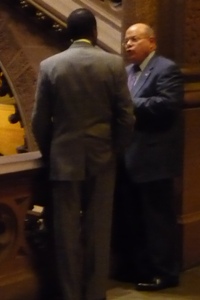 ALBANY—Six months after he was elected, there is growing pressure on State Senator Pedro Espada Jr. to finally come into compliance with campaign finance disclosure laws.
Majority Leader Malcolm Smith issued a statement today calling on Espada to get straight with the State Board of Elections within one week or face "immediate action." Smith did not elaborate on what that might be.
"I'm expecting him to handle it like any other member of the legislative body," Smith said, adding that the timing of the announcement was not related to any outside event, including the growing amount of negative press around Espada's improprieties.
"It's not a matter of putting the foot down—we had other issues we needed to deal with," Smith said. "By the way, we had a small issue with the M.T.A. that kind of sucked all the oxygen out of Albany. And now that that's done, we're looking at some other items."
Bob Brehm, a B.O.E. spokesman, said "nothing new has been received; conversations continue." Espada never correctly filed with the board during his campaign last fall, and as a result, exactly who contributed to his campaign and how much is not known.
Brehm said the B.O.E. will soon be sending a letter listing all campaigns that owe money to Albany County District Attorney David Soares, asking him to help enforce fines levied as a result of non-compliance. Espada owes several thousand dollars.
This action was last taken by the board in 2006, Brehm said, and an official connected to Espada was included on that list.
Heather Orth, a Soares spokeswoman, said that in 2006 Soares sent a letter asking the scofflaws to comply, but took no legal action against them. It was not immediately clear what powers of enforcement Soares has.
Daniel Pagano, an attorney for Espada, said he would be compliant by the end of the week. (He has told me similar things before.)
"We could have filed it before, but the board hasn't gotten back to me about how they want us to file," he told me, saying there is an open question as to whether existing filings should be amended or a fresh report should be prepared. "I'm going to suggest to the secretary of the Senate—after I see the senator—that we're going to file something showing what was spent and what was taken in. So we will be in compliance, in a sense. And if we don't get direction from the board, we're going to do it in the way I think is most compliant. Hopefully we will have input before from the board."
Brehm disputed the notion that the Espada camp was waiting for action from the B.O.E., and noted there were "many issues" related to the filings.
By the time reporters got around to asking Smith about Espada during an ad hoc scrum, he had already been grilled about State Senator Kevin Parker, who is facing a felony criminal mischief charge related to an altercation with a Post photographer Friday. The photographer was reportedly investigating an alleged incident between Parker and an Albany parking garage attendant in the preceding days.
"I don't think it's raining problems," Smith said.
He said he would not act on the parking garage incident until he receives a report from the State Police, who apparently did not take a written complaint. He also said he was "taking a look" at how some of Parker's stipend— which he suspended this weekend, but which has already been paid—may be recouped. Smith said he has not asked Parker to pay it back.
I asked Smith why he was quicker to take action against Parker than he was in taking similar steps against State Senator Hiram Monserrate, who has pleaded not guilty to a felony assault charge lodged in connection with an alleged incident of domestic violence.
"What it is, clearly, is that over time you have to make sure members understand the importance of the standards that we are all given, and understandably accept," Smith replied. "What has happened with Kevin Parker was an unfortunate situation, and I dealt with it as I felt it needed to be dealt with."
He was asked what message his members actions sent to New Yorkers.
"I'm not looking at it as a message in a sense," Smith replied. "You have members throughout the legislative bodies—city, state and federal—that have to be responsible for their actions. It's an unfortunate situation, but do they still stand for issues like the advocacy of issues like housing, health care and education."
I asked Smith if he thought Kevin Parker had an anger management problem.
"I'm not a psychiatrist," he said. "I know that he agreed to take anger management classes after the last incident, and I believe he did so."