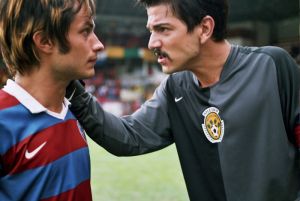 There's something a little fishy going on with Terminator Salvation. The Warner Brothers release doesn't open until Memorial Day weekend, but the relentless ad campaign has basically spoiled the entire movie already. The latest spot, a four-minute "extended preview," is like a short film: Almost every major plot point is shared, along with some out-of-context lines of dialogue sure to make Terminator fans simultaneously groan and cheer ("Come with me if you want to live"). Call us crazy, but how is this campaign fundamentally different from film piracy? It feels like Warner Brothers is giving away just enough of the movie to prevent fringe moviegoers from feeling like they have to see it theatrically. Of course, the ad campaign could also be pushing so hard because Terminator Salvation stinks; if Warner Brothers decides to release super-special "extended 120-minute preview" in the next couple of weeks, take that as a bad sign. Three movies hit theaters this weekend, and chances are you'll see a Terminator Salvation trailer before at least one of them. As we do every Friday, here's a handy guide to the new releases.
Star Trek
What's the story: As the ads proclaim, "This is not your father's Star Trek!" Though, to be honest, that's probably just another way of saying, "You don't need to wear a Klingon costume to see this movie!" J. J. Abrams' long-awaited reboot of the iconic franchise goes all origin to find out how Captain Kirk (Matt Damon look-alike Chris Pine) became Captain Kirk, but apparently manages to keep things mainstream enough to appeal to Trekkies and non-Trekkies alike. Expect lens flares, space battles and Leonard Nimoy. For The Observer's take, read Sara Vilkomerson's rave here.
Who should see it: William Shatner.
Next Day Air
What's the story: Hello, counterprogramming! Mos Def and Donald Faison star as a pair of deliverymen who mistakenly give a package of cocaine to the wrong guy. Needless to say, differences ensue. Think of this as Lock, Stock and Two Smoking Barrels meets Friday, but without either film's charms
Who should see it: Ice Cube and Chris Tucker.
Rudo y Cursi
What's the story: Real-life best friends Gael García Bernal and Diego Luna reunite onscreen for the first time since Y Tu Mamá También in Rudo y Cursi, a film about two brothers from a small Mexican farming village who rocket to stardom as soccer icons. (In keeping with the reunion vibe: Y Tu Mamá co-writer Carlos Cuarón directs and his brother, Alfonso, produces.) The trailer makes Rudo y Cursi seem like a Will Ferrell–John C. Reilly vehicle, but considering you'll probably be lost in the dreamy eyes of Messrs. Bernal and Luna for two hours, quality of narrative won't really matter.
Who should see it: Pelé.