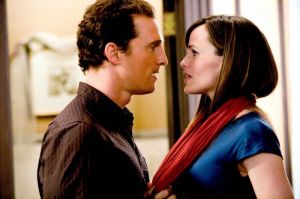 Is Sasha Grey the next big star? For the uninitiated, Ms. Grey is the just-turned-21-year-old porn actress who finds herself at the center of the latest pillbox-sized indie from Steven Soderbergh, The Girlfriend Experience, and if the buzz is to be believed, mainstream success is within her reach—in his Village Voice review, J. Hoberman compares her to Marlon Brando in Last Tango in Paris. That Ms. Grey is something of a walking contradiction only adds to her mystique: She cites Jean Luc-Godard with regularity, appears to be much smarter than her years and yet has also starred in 150 porn films with catchy titles like Face Invaders 4. The Girlfriend Experience doesn't open theatrically until the end of May, but it's currently available both online (via Amazon) and on demand, so you can see for yourself what all the fuss is about. If a Nietzsche-quoting porn star isn't your idea of a good time, though, three movies hit actual theaters this weekend as Hollywood prepares for what should be another summer of record-breaking box office. As we do every Friday, here's a handy guide to the new releases.
X-Men Origins: Wolverine
What's the story: For a movie that has spent the last few months dodging one publicity landmine after another—reshoots, bad buzz, online leaks—we weren't the least bit surprised to read that the outbreak of swine flu negatively affected Wolverine's box office in Mexico. While we won't say the film is cursed, we can only imagine a swarm of locusts is just around the corner. As for the plot … you know the drill: Hugh Jackman stars as the titular mutant and fights with Liev Schrieber's Sabertooth and Danny Huston's General Stryker while stuff blows up really good. For The Observer's take, check out Sara Vilkomerson's review here.
Who should see it: Magneto.
Ghosts of Girlfriends Past
What's the story: Counterprogramming at work! While all the boys are busy sharpening their claws at the showings of Wolverine, New Line hopes that the girls go see Matthew McConaughey and Jennifer Garner meet-cute in Ghosts of Girlfriends Past. Don't expect too much though: The film, a romantic comedy version of A Christmas Carol, looks like straight poison. Not even the presence of Lacey Chabert—presumably still trying to make "fetch" happen—and the always-welcome sight of Breckin Meyer (Clueless for life!) can get us excited for this mess.
Who should see it: Kate Hudson.
The Limits of Control
What's the story: It wouldn't be the first weekend of summer without a little indie goodness. Enter Jim Jarmusch's The Limits of Control, the director's first effort since taking Bill Murray on a deadpan road trip in Broken Flowers back in 2005. Mr. Murray makes an appearance here as well (along with other famous faces like Tilda Swinton, Gael Garcia Bernal and John Hurt), but the real star of the show is Isaach de Bankolé, a frequent Jarmusch collaborator seen most recently gritting his teeth on this season of 24. We've found Mr. Jarmusch's work to be hit or miss, and unfortunately it sounds like this film—the story of a mysterious loner on a dreamlike quest—fits into the latter category. The Limits of Control has a 19 percent Fresh rating on Rotten Tomatoes and our own Rex Reed called it "pure, undiluted crap." Hmm, what time is Wolverine showing again?
Who should see it: Ghost Dog.