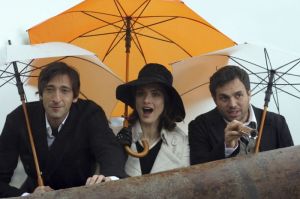 We think even Don Draper would object to the ad campaign for The Road. John Hillcoat's adaptation of Cormac McCarthy's bleak, end-of-the-world novel doesn't come out until October 16th (up against New York, I Love You and Where the Wild Things Are—can you say counterprogramming?), but the trailer was released yesterday and it seems borderline criminal. As put together by the Weinstein company, The Road looks like an apocalyptic thrill ride that mixes equal parts I Am Legend and Day After Tomorrow; but according to Esquire's Tom Chiarella, who has seen The Road and calls it "the most important movie of the year," many of the scenes in the trailer don't even exist in the finished film. Equally amusing is the treatment of Charlize Theron, who appears in a couple of flashback scenes as the wife of Viggo Mortensen's nameless character, yet looks to be a co-lead. We understand having to sell the audience on something they already like—nuke porn is so hot right now—but this is ridiculous! You don't release a movie like The Road and expect it to be commercial; if the Weinstein Company wanted I Am Legend 2, they should have just gotten into the Will Smith business. Three movies hit theaters this weekend, and there is nary an apocalypse to be found. As we do every Friday, here's a handy guide to the new releases.
Angels & Demons
What's the story: The most-anticipated least-anticipated blockbuster of the year? Perhaps. Tom Hanks reprises his role as Harvard symbolist Robert Langdon—this time sans mullet—in the Ron Howard adaptation of Dan Brown's best-selling, airport-ready novel. While Mr. Brown actually wrote and released Angels & Demons before he shot to fame with The Da Vinci Code, the events of the screen version—which include murder, Papal conclaves and the Illuminati—take place after everything that happened in the first film; no prequels here! We barely remember reading the book, but, if memory serves, it was way better than The Da Vinci Code. Do with that information what you will.
Who should see it: Pope Benedict XVI.
Management
What's the story: Jennifer Aniston pulls her "dressed down" look out of storage as a traveling saleswoman who ends up being stalked/loved by Steve Zahn's lonely hotel clerk in this indieriffic little title from first-time director Stephen Belber. The reviews for Management have been solid yet unspectacular—our own Andrew Sarris says the film offers "sunny but not entirely silly escapism"—but since we're suckers for Ms. Aniston when she plays small (see: The Good Girl, Office Space, Friends With Money), we might give this one a shot.
Who should see it: John Mayer.
The Brothers Bloom
What's the story: Director Rian Johnson's follow up to Brick finds Adrien Brody and Mark Ruffalo starring as the brothers Bloom, two con men looking for one last score at the expense of Rachel Weisz's rich heiress. Needless to say, entanglements, both romantic and otherwise, ensue. That The Brothers Bloom premiered at the Toronto International Film Festival last fall, but only sees the light of day now—after going through multiple release date shifts—makes us a bit apprehensive about its quality. However, based on the seven minutes that premiered online last month, we're expecting The Brothers Bloom to play like Wes Anderson by way of Paul Thomas Anderson. Color us excited.
Who should see it: Sawyer from Lost.