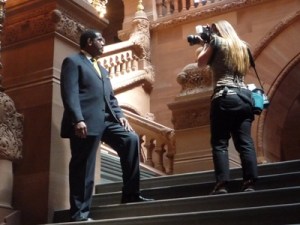 ALBANY—State Senator Kevin Parker was milling in a hallway just now, having finished giving an interview to a television station, when he was approached by a reporter and photographer for the New York Post.
It was, of course, a Post photographer that was involved in the incident that led to Parker's arrest last Friday. 
But today Parker smiled, and then calmly spent the next five minutes posing for pictures on the Great Western Staircase. Afterward, I asked him what had happened on Friday that led to the charge of felony criminal mischief.
"Unfortunately, that's an ongoing legal matter, and on the advice of my counsel I can't speak about that," he said. He did say, however, that he expected to be found not guilty, but that "everything is on the table" regarding the possibility of a plea deal.
I asked him about Majority Leader Malcolm Smith's decision to strip him of his leadership post and withhold the payment of his stipend.
"I certainly support the leader's decision," Parker said. "It was the right thing to do. My personal problems cannot be a distraction to the Senate. We have a lot of work to do between now and the end of session—we have to deal with school governance, we have to deal with marriage equality, we have to deal with green collar jobs, we have to deal with vacancy decontrol—these things are all more important than any personal legal problems I may have."