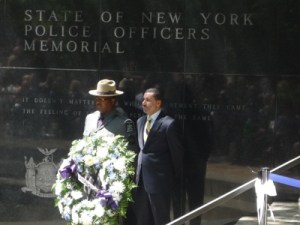 ALBANY—David Paterson said that he would push ahead with plans to create a new government ethics commission, which he announced yesterday, even after the executive director of the Commission on Public Integrity, Herb Teitelbaum, heeded the governor's call and resigned. (The other commissioners have not.)
Paterson, speaking to reporters after a ceremony commemorating police officers who died in the line of duty, said he will re-make the commission in a way that gives it more independence from the executive branch.
Of the new commission, Paterson said he "was willing to set it up, and probably moved that date up because of the fact that the commissioners [didn't] resign. Not to mention what any commissioners did, but the fact is that collectively they ignored countless warnings that there was a problem within their own ranks."
He said some of the commissioners acted properly, and had they submitted resignations, he would likely have reappointed them.
"I just thought the brazen way in which they ran out and got lawyers, thinking about themselves first, and this whole issue of the independence of the commission. Then why is there written into the statute what would be procedures to remove commissioners? There are procedures to remove the governor, if the governor acts in a way that is out of the boundaries of what we consider to be correct for that office. So therefore, I don't think anybody is above the law. That's why I just asked for the resignations, not to blemish anyone's record or prescribe any wrongdoing. But just to give the commission the greatest opportunity to win back the public integrity."
Paterson's staffers said details of the new commission will come soon. Paterson said, "I would like to create a structure now with a better balance of responsibility, and kind of like the Judicial Nominating Commission, where you don't even appoint the commissioners as much as you appoint the task force that would inevitably make the appointments themselves."
(Paterson, you may recall, had issues with the Commission on Judicial Nomination back in December.)
At the same time, Inspector General Joseph Fisch was testifying before the Investigations and Government Operations Committee in the legislative office building. State Senator Craig Johnson, who chairs the commission, told me the appearance was the result of a "longstanding invitation" but that the report he issued last week, which prompted the commotion over the Integrity Commission, of course came up.
"I think he has concerns about it, and we certainly offered the door to provide some recommendations," Johnson said.