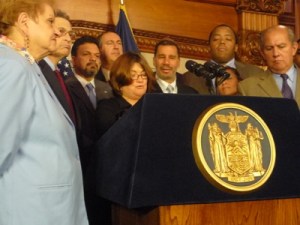 ALBANY—There doesn't seem to be much progress on a legislative fix to the expanded bottle deposit law, even as lawyers representing the state prepare to argue, in federal court on Wednesday, against a lawsuit alleging it is unconstitutional.
At an event praising Sonia Sotomayor's nomination to the Supreme Court I asked Paterson about the bill, and he said he'll talk about it tomorrow.
"We're talking to the handlers and the bottlers about trying to work out a solution that will be amenable," he went on. "They feel that they've been hit too hard in this action. And I don't know that they have a legal remedy, but they certainly have an equitable remedy, and that's what we're talking about."
Several bottlers named Paterson when they filed suit against the state last week, claiming the expanded bottle bill violates the equal protection clause and 14th Amendment of the U.S. Constitution. State leaders have acknowledged that the law as enacted needs to be amended—there are concerns over the requirement for a New York-specific UPC code—but Paterson's remarks seem to indicate that there's no clear plan to make the necessary changes.
The law as it currently stands takes effect on June 1.