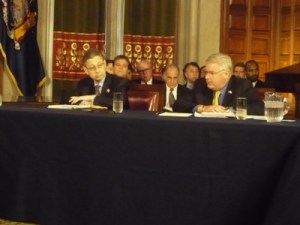 ALBANY—Frustrated after legislative inaction on his proposed spending cap, David Paterson said during a leaders meeting that he will not approve legislation that spend more money.
 "It's the only piece of legislation I've sent to the Senate or Assembly, and it hasn't been introduced," Paterson said, referring to California's massive deficit as a worst-case scenario. "If there isn't going to be any action taken, then I recognize that the only power I have is to be a spending cap myself and not allow any legislation to pass that spends any money. So I would respectfully like to see this legislature address the issue of a spending cap."
He made the threat earlier on the John Gambling show.
Leaving a meeting, Senate Majority Leader Malcolm Smith seemed non-plussed by the governor's remarks.
"Our priority for us is local government consolidation and mandate relief; the spending cap is something we'll take a look at," he said. "I believe we should reduce government before we talk about spending caps. Our government right now is over bloated."
Andrew Cuomo's government-consolidation bill went live in the Senate yesterday, with rare bi-partisan co-sponsorship, and this morning was approved by that chamber's Committee on Local Government. An Assembly committee approved it yesterday. Both proposals, ostensibly, work toward the same end goal of property tax relief.
Later, walking into his office, Assembly Speaker Sheldon Silver said "I believe, generally, that we will work with the governor to keep spending under control, to keep the budget under control and do that in the conference, generally."
"It doesn't matter if there's a spending cap," he said.