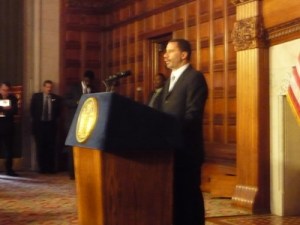 ALBANY—David Paterson just announced plans to completely overhaul the way government ethics are enforced on the state level. His plan creates a new body of five people, appointed by an independent screening panel, to oversee the executive and legislative branches, as well as campaign financing and lobbying.
"We will take politics and the perception of politics out of the whole concept of ethical review," Paterson said at a Red Room press conference. "It will all enable us to place power in an agency and a system that will now serve the public interest rather than self-interest."
Paterson said the measure is a priority, and on the top of a list of things he'd like to see accomplished before the end of this legislative session. He hinted at this move last week, after a report by Inspector General Joseph Fisch called into question how the current Commission on Public Integrity handled the "Troopergate" investigation.
But in unveiling the measure, Paterson stood without Assembly Speaker Sheldon Silver or Senate Majority Leader Malcolm Smith. The New York Times, which reported the plan this morning, noted the legislature is likely to resist the move. The governor acknowledged this.
"Maybe I didn't invite them," he joked, when asked why he was standing alone. He then said the plan was subject to a "legislative process" and that "it's not agreed upon, they will review it."
NYPIRG's Blair Horner attended the announcement, and said afterward that the proposal moves the debate forward. ("You can't legislate good people but you can legislate better structure," he noted.)
On the possibility of passage?
"There's a lot of legislative support for the idea of independent oversight," he said. "I think what's important to look at is how the legislative leaders react to the structuring and the separation of powers."