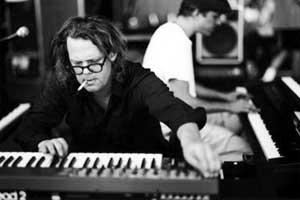 In late April, ex-Wilco band member Jay Bennett wrote on MySpace about his hip replacement surgery, under-insurance problems, arthritic aches and knee trouble: "I have been saving as much money as possible ever since I made this new commitment to my health, my future, and my quality of life," he shared, "and have sold off some vintage recording gear."
Drummer Ken Coomer, who was also fired from Wilco, left one of the few comments: "Love You! Call me I have a story of a friend who just went through a similar, actually worse surgery…."
How could the tale of Jay Bennett get sadder? This is how: On Tuesday, The Chicago Tribune reported that Mr. Bennett has sued Wilco frontman Jeff Tweedy, claiming that Mr. Tweedy owes him for his eight years in the band, and for his role in their documentary, I Am Trying to Break Your Heart. That film shows dreadlocked, chubby, whiny Mr. Bennett giving migraines to Mr. Tweedy during the recording of Yankee Hotel Foxtrot, hailed as the smartest American rock album in eons when it was finally released in 2002. Mr. Bennett had been fired in August 2001.
Whether or not he gets the $50,000 he's after—or a functioning hip—there's some recompense in the open secret that Wilco hasn't been the same without him. What is now middle-of-the-road prettiness was once tobacco-stained, waffle-ironed beauty. Thanks in large part to Mr. Bennett's kaleidoscopic instrumentation, 1999's Summerteeth sounds like Phil Spector producing Gram Parsons covering the Beach Boys.
Mr. Bennett's last solo album, Whatever Happened I Apologize, is available as a free download under a noncommercial Creative Commons license. "Once I am able to get a down payment of sorts together and actually have the surgery performed … I should be operating at approximately 80% capacity," he wrote on MySpace. "I'm functioning WAY below 80% right now, so what do I have to lose?"
Editor's Note: On May 24, Mr. Bennett died at age 45.