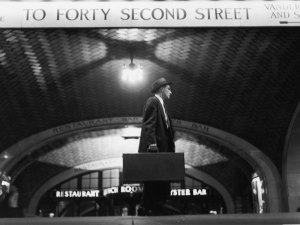 On the rainy evening of the fourth of May, a small group of people showed up at 17 Murray, a bar in Tribeca decorated with Frank Sinatra's mugshot and one of those talking Rodney Dangerfield statues one might find in an Archie McPhee catalog, to celebrate the life and recent death of The New York Times' 'City' section
In keeping with the thing that brought them all there, the event, planned by 'City' essayists Saara Dutton and Tommy Pryor, was a small and slightly eccentric affair.
Mr. Pryor, 55, grew up in the city and only started writing five or six years ago. In February 2008, he contributed an essay about putting his mother in a headlock as a kid and another one about infiltrating the Yankees bullpen with his father.
Ms. Dutton said she was inspired to move to New York in equal parts by the city she saw depicted on Sesame Street and in SPY Magazine as a kid growing up in Honolulu and Seattle. She moved to New York three weeks after 9/11 and went on to write a piece for 'City' about Duane Reade's shopping bags headlined Sacks and the City and a few other pieces over the years.
"Truly, as a person who always wanted to move here, it's like our section," Ms. Dutton enthused.
Of the section's ending, she said, "I think it's incredibly sad."
Mr. Pryor explained that the event was originally planned as a wake—a loving, boozy, Irish-style wake—but that "out of respect" for the section's editors, it was reframed as a toast.
(While this party wasn't organized by the paper of record, Connie Rosenblum, the editor of 'City' since 1999, told The Observer by telephone earlier in the day that she wished she could be there. "I'm sure it's gonna be wonderful," she said.)
Part of the wonderfulness involved the hiring of a bagpipe player, who kicked things off with his rendition of "Amazing Grace" and made a pretty picture in a modified NYPD uniform including kilt and spats; the small group of attendees hushed up and the rest of the room, full of after-work drinkers, didn't seem to mind the pipes or the half- dozen digital cameras whirring away.
Before he started, The Observer asked the bagpiper—who wouldn't give his name—what he thought of the event he'd been hired to perform at. "A buddy of mine was supposed to do this but he called me at noon and asked me to do this for him," he said.
Did he know what the event was all about? "No, not really," he said with the sort of thick outer borough accent Tom Wolfe once examined in his New York essay Honks and Wonks.
When a reporter explained to him that it was a tribute to a section of The New York Times that had been discontinued, the piper admitted he didn't really read the paper much. "I'm an online kinda guy," he said.