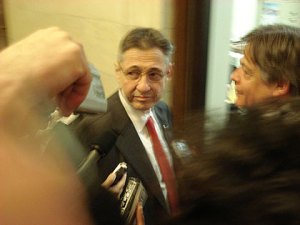 ALBANY—Assembly Speaker Sheldon Silver just said he supports allowing the mayor of New York City to appoint a majority of the members of the Panel for Educational Policy, which is a key sticking point in the debate about mayoral control of schools.
"I support the mayor continuing to control the actual board that makes policy," Silver told reporters while walking toward his office. "I do think parents need involvement, I do think more issues need transparency. Ultimately, I think it's the mayoral appointees who make the ultimate decision. I think I'm fine with that. I think we need more transparency and I think we need the ability of parents to give their views on how to best educate their child or their children, and there should be a mechanism within the existing board to have those parents heard. It should not be parents standing on the steps of City Hall with a placard."
Silver was then asked about whether those members should serve a fixed term or, as they do now, at the will of the mayor. Silver said that was among "details that are to be worked out later."
This is much clearer than the comments he made last week, which were interpreted differently by different media outlets.