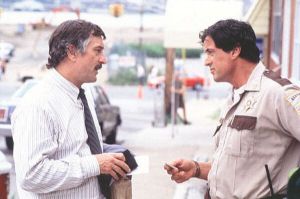 It's 2 a.m. and you awake with a jerk, alone in your fully lit apartment and still on the couch. On TV, the credits of some movie you've already seen a billion times are scrolling by. It feels like rock bottom. And we know, because we're just like you: single.
Need a movie to keep you company until you literally can't keep your eyes open? Join us tonight when we pass out to Cop Land [starting @ 1 a.m. on Starz].
Why we'll try to stay up and watch it: It must be hard being a victim of your own success. Just ask Sylvester Stallone. Back in 1997, America's favorite muscle-bound galoot decided he wanted to be respected for his acting and went all method to play Freddie Heflin, an overweight and partially deaf suburban cop in James Mangold's Cop Land. Mr. Stallone gained 40 pounds for the role (shades of every wannabe-serious actor since Robert De Niro turned the trick in Raging Bull) and even took SAG scale, despite being, y'know, Sylvester Stallone. And after all that hard work, how was he repaid? By mediocre notices and a career exile that didn't end until Rocky Balboa delighted audiences nine years later. The response was loud and clear: no one wants to see Rocky act.
And that's a shame, because Mr. Stallone is actually quite good in Cop Land—understated, resigned and completely castrated by his character's own pathetic sadness. The fact that we're watching an icon of alpha male superiority only heightens the performance: This is against-type work at its very finest.
Mr. Stallone isn't alone, of course. Cop Land is populated by the cast from every Martin Scorsese movie ever (Robert De Niro, Harvey Keitel, Ray Liotta, Cathy Moriarty), all let loose inside the type of small New Jersey town where Bruce Springsteen songs can be heard throughout the night. Sounds almost too good to be true, right? Perhaps it always was. Yet, that we were disappointed with the film on first viewing back in 1997 has more to do with the marketing than anything else: We were expecting Goodfellas Part 2 and instead got High Noon. And, at the very least, it's fun to play "hey there's another Sopranos cast member!" Watch for Edie Falco, Frank Vincent, Annabella Sciorra and John Ventimiglia (Artie Bucco!), among others. There is a good chance David Chase used this movie in lieu of screen tests.
When we'll probably fall asleep: Despite our "like" of Cop Land, we aren't big fans of the ending, which combines the classic showdown of High Noon with the film school trickery of shooting everything in silence (to heighten Freddie's deafness, naturally). So we'll skedaddle about 35 minutes before that mess of conflicting ideas happens, at 2:05 a.m., when Mr. Stallone meekly walks into Mr. De Niro's Internal Affairs office, begging for a second chance to play cop. Mr. De Niro, chomping on a sandwich and complaining about a lack of napkins, seems to be having the time of his life, and he kinda blows Mr. Stallone off the screen. If you ever wondered who would win a title fight between Jake LaMotta and Rocky Balboa, you now have an answer … it's LaMotta, in a knockout.