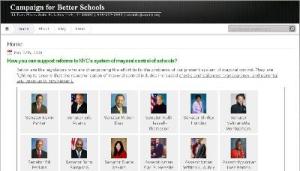 ALBANY—A union-associated group opposing mayoral control of city schools, the Campaign for Better Schools, held a rally today outside the Queens office of Senate Majority Leader Malcolm Smith, delivering 10,000 postcards demanding serious tweaks to the current system of mayoral control.
The same group–which is advocating a bill in that chamber sponsored by State Senator Kevin Parker–launched a web site yesterday showing legislators that have backed their position.
Smith has admitted to a "split" on the issue within his conference, but says he generally supports allowing the mayor to appoint a majority of members to the Panel for Educational Policy. Assembly Speaker Sheldon Silver proposed a compromise that also keeps the mayor appointing the majority, with tweaks for parental involvement. There is some lingering resistance to that stance in his conference, as the Post pointed out this morning.
Smith put out this statement in response to the rally:
I would like to thank all those concerned parents and educational advocates who showed up today to make sure their voices were heard on the issue of mayoral control. As a parent myself, I understand that nothing is more important than renewing our commitment to providing a quality education for our children.

Mayoral control has proven to be a far bigger success than what came before it, but no policy is perfect and I want to take this opportunity to enhance the measures that need improvement by providing parents with greater input and avenues for participation in their child's education and ensuring greater fiscal accountability. I look forward to a rigorous debate on what is best for our children and remain steadfast in my commitment to enacting a policy that will allow our children to continue to have the educational tools they need to thrive.