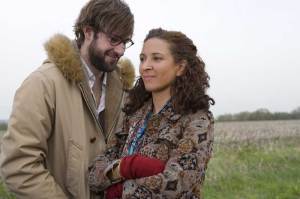 Sitting in a quiet corner of the Mercer Hotel recently, Saturday Night Live alumna Maya Rudolph, curls demurely pinned back, was dressed in a soft pink sweater over a black dress that just barely showed the swell of her second pregnancy with her long-term partner, Paul Thomas Anderson, the director of There Will Be Blood. "I will be ordering breakfast throughout the day," she warned.
Ms. Rudolph needs the energy. At 36, she is not only a soon-to-be mother of two (daughter Pearl is 3 and a half), but for the first time playing the lead female role in a movie: Away We Go, directed by Sam Mendes, from a screenplay written by the married novelists Dave Eggers and Vendela Vida, arriving in theaters on June 5. "Nobody prepares you for how much of a brain fuck it all is," she said of the consequent media attention. "This one journalist outed me"—meaning the pregnancy, which accidentally became breaking news in early May. "I should have just told her I was fat and she would have felt terrible. Hindsight really is 20-20. … But it is weird when someone is like, 'I don't know you … but I'm going to change your life!'"
Away We Go may also change Ms. Rudolph's life, from that of rubber-faced, musical ensemble player to legitimate star. Funny and poignant, it features her and The Office's John Krasinksi as a couple expecting their first baby but with no idea of where to call home. They embark on a road trip across America; Catherine O'Hara, Jeff Daniels, Allison Janney and Maggie Gyllenhaal all pop up in supporting roles. But it is Ms. Rudolph who stands out: quieter, more still and self-contained than she ever was parodying Donatella Versace, Beyoncé or Christina Aguilera on the Studio 8H stage. "She's kind of magical, really," Mr. Mendes said on the phone. "People think, 'Oh, she's funny', and they know her from sketch comedy. But she grounds the film. She's so much the heart of the movie."
"Did he really say that?" Ms. Rudolph said, pantomiming tears. "Did he tell you that I said the dumbest thing in my audition? I was all, 'I really love this movie and I hope that if I can't do it that you'll get someone really great.' It was one of those things where it's like … really? That's what you want to say at your job interview?"
She had fallen hard for the script. "I appreciated the description of Verona"—her character—"that she had what she considered problem hair and would sometimes stick things in it to keep it up. I know that person. I've lived with that person for 30-something years."
But seriously … "I just thought, 'I have to be a part of this,'" Ms. Rudolph said. "There was a part of me somewhere in the back of my brain that really truly always imagined getting a chance to do something like this, as crazy as that sounds. I never really knew what that was but I knew I wanted to do something special."
"Special" was probably Ms. Rudolph's genetic destiny. Her mother was the late, great soul singer Minnie Riperton; her father the songwriter Richard Rudolph. Just before Maya's seventh birthday, Riperton died of breast cancer, only 31. Her most famous ballad, "Lovin' You," written by her husband, contains a "la-la" chorus she used to sing to soothe Maya to sleep, and high notes Mariah Carey only wishes she could hit. Ever see an American Idol contestant try and perform that song? Instant failure and a spot on the loser reel.
"Do they really try and sing that? That's a really bad idea," Ms. Rudolph said. "I think we should send a message to anyone who auditions for that show that it's safer to go with a different song because technically, nobody has that register. Just to make them feel better, I can't sing it! So they shouldn't even try."
After the end of her Saturday Night Live run, Ms. Rudolph, Mr. Anderson and Pearl moved back to Los Angeles, where Ms. Rudolph grew up (she attended St. Augustine by the Sea School with Gwyneth Paltrow, still a close friend). "It's my hometown," she said. "And it's nice when you are starting your family to be near family."
Meanwhile, she's about to rejoin the SNL family (including David Spade, Rob Schneider and Colin Quinn) as Chris Rock's wife in an Adam Sandler–scripted comedy tentatively titled Grown Ups. "I feel like we're from the same school and I'm JV and they're from varsity," Ms. Rudolph said modestly. She initially refused to watch the dailies of Away We Go, but then forced herself to sit down and watch the film. Told that The Observer had cried (audibly) at certain scenes, she said: "That makes me weirdly happy. And, I'll tell you, I cried too. And that then made me laugh at myself, 'cause I'm a crazy person. I mean, I'm watching myself. I knew what was coming!" She laughed. "It's so stupid. But it moved me."
svilkomerson@observer.com