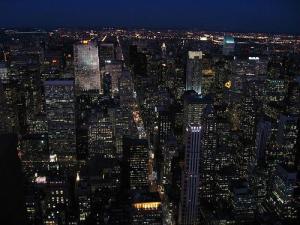 Fair warning: The most recent Standard & Poor's CMBS quarterly report, released Monday and titled "Delinquency Rate Is on the Verge of Passing Previous Peak," does not reveal the sort of optimism that seems to have fueled stock market rallies over the past two months.
The report, written by credit analysts Larry Kay and Eric Thompson, depicts an industry that continues to be hobbled by a falling demand for commercial real estate, and owners' inability to refinance once their loans—chopped up into commercial mortgage-backed securities—come due.
A summary:
The recession appears to be affecting all commercial real estate property sectors, and we believe job losses, reduced consumer spending, and the rapid decline in wealth have reduced demand for commercial real estate space. In our opinion, the confluence of these negative events combined in the first quarter of 2009 to drive vacancy rates higher for all of the major property types. Consequently, the performance of the collateral backing Standard & Poor's Ratings Services rated commercial mortgage-backed securities (CMBS) continues to show signs of stress, as property fundamentals weaken and credit conditions remain difficult. The CMBS delinquency rate is now only 11 basis points away from its peak of 1.96%, which was recorded in December 2003. Significant credit contraction has, in our view, all but eliminated viable refinancing options.
Some interesting highlights:
In March 2009, retail property-backed delinquencies hit 1.89 percent, the highest ever.

In March, multifamily-backed CMBS delinquencies also set new records, at 3.42 percent.

In March , office property delinquencies hit 1.23 percent, just shy of the sector's historical peak: 1.24 percent in September 2003.

On a somewhat positive note, lodging-backed CMBS delinquencies were far off their June 2003 peak of 8.37 percent, hitting 2.26 percent in March.
Messrs. Kay and Thompson write, "Until liquidity returns to the sector, we expect special servicers to execute more extension agreements as part of their 2009 loan workouts."
Read the whole, enervating report here.