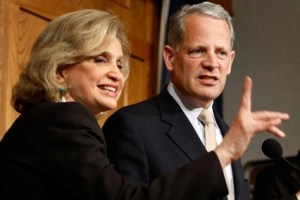 ALBANY—According to two congressional sources, Representative Steve Israel began telling some colleagues late last week about his intention to mount a primary challenge to Kirsten Gillibrand, who was picked over Israel and others to be senator.
Fred Dicker reported that the announcement could come as early as today, but I was told by two people familiar with his plans that a formal declaration isn't going to come until later. (Dan Janison's sources say the same..)
For a congressman from Suffolk County, Israel has worked unusually hard to cultivate a statewide presence. Just this weekend he was in Rochester and Buffalo, and he made a point of attending the Democratic Rural Conference in Saratoga Springs last month. Additionally, Israel serves as the New York liaison for the Democratic Congressional Campaign Committee, and worked to elect Eric Massa, Dan Maffei and most recently, Scott Murphy.
According to the most recent filings, Israel had about $1.7 million in campaign cash, compared to Gillibrand's $2.3 million.
Despite her impressive fund-raising efforts, Gillibrand is still considerably more vulnerable than your average incumbent senator.
Last week, the Times ran a story in which Senator Chuck Schumer, Gillibrand's senior partner, publicly declared he would act as a political godfather. The message to would-be challengers seemed clear: stay back, or Chuck will make your life hard.
It's not clear yet whether Israel is listening.