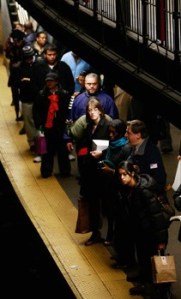 ALBANY—Where's the bill?
There was an announcement of an M.T.A. bailout deal last night, but no legislators have seen an actual bill at this point. Senate Minority Leader Dean Skelos, leaving a leaders meeting a few moments ago, lamented this fact.
Outside the legislative chambers, I found Gene Russianoff of the Straphangers Campaign and Neysa Pranger of the Regional Plan Association–who have advocated for a full plan and are generally pleased with this one–waiting, saying they haven't seen the bill.
Russianoff said he heard there was a dispute over whether David Paterson would submit a fresh program bill, or whether the bill introduced by State Senate Democrats will be amended.
A vote is still expected today.