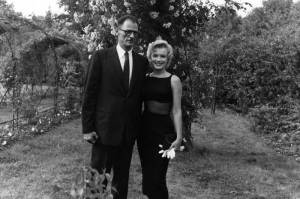 Arthur Miller
By Christopher Bigsby
Harvard University Press, 776 pages, $35
Christopher Bigsby is a premier Arthur Miller scholar, with 20 years of direct access to his subject, to Miller's family, and to the Miller archive to his credit. But comprehensive this biography surely is not. Who besides the Miller clan did Mr. Bigsby interview? No one, judging by a one-page Acknowledgments section and source notes. Interviews with contemporary figures would have offered an immediacy and variety that this univocal narrative lacks.
Mr. Bigsby, director of the Arthur Miller Centre at the University of East Anglia and editor of The Cambridge Companion to Arthur Miller and other books on the playwright, begins with Miller's family, a group of Jews who settled in Manhattan's Lower East Side, where they became prosperous in the garment industry before moving to a spacious home in Harlem, where Miller was born in 1915. In youth, he was torn between parents who were the products of an arranged marriage: Isidore, Miller's father, was apparently slow-witted and ill-educated (he never learned to read properly); Augusta, Miller's mother, was both afraid to rebel against her family and resentful because she could not share her intellectual or cultural interests with her husband. Miller's father was all business, one of those '20s entrepreneurs who lost a fortune in the stock market crash and could not sustain his garment business. Bankrupt, he moved his family to a modest home in Brooklyn and became part of what Miller saw as a systemic failure on the part of his family and in the capitalist economy.
After working in an auto parts warehouse to earn $500 (enough for college tuition), Miller (a subway reader of Dostoyevsky) decided to enroll at the University of Michigan, where he competed for the prestigious Hopwood writing awards—cash prizes that helped him stay in school during the Depression. In college, he turned to Marxism; like others of his generation, Miller found common cause with unionism, socialism and other varieties of far-left politics. But Miller was slow to realize that self-sacrifice in the cause of communism means in practice suppressing free speech, and that other forms of collective action result in tyrannies and corruption worse than capitalism.
Writing his mother from the University of Michigan, Miller declared himself a communist, and yet he never joined the Communist Party, even though he admired its early anti-fascist position and its support of Republican Spain during the Spanish Civil War, and had an older brother, Kermit, who became a Party member. But Miller devoted most of his energies to writing as a way to better himself and the world. Winning first prize for his first play ratified his bold decision to opt for a writing career.
ARMED WITH HIS college degree, in 1938 Miller returned to Brooklyn, where he lived unhappily with his parents while looking for a job. He worked briefly for the writer's wing of the WPA before it shut down. He also tried to enlist in the Navy after Pearl Harbor, but he was denied owing to a sports injury to his knee. Instead, he worked as a ship fitter in the Brooklyn Navy Yard, doing his bit for the war effort. He also wrote radio plays, which became his principal source of income while he tried his hand at verse dramas for the stage and experimental short stories and aborted novels.
Even though his first Broadway play, The Man Who Had All The Luck (1944), failed after four performances, Miller's efforts captured the attention of important theater people such as directors Elia Kazan and Harold Clurman. At the same time, Miller's startling and still apposite novel about anti-Semitism, Focus (1945), earned him a new audience and sales of more than 90,000 copies.
Not until All My Sons (1947) did Miller achieve the Broadway success he had been aiming at for nearly a decade. All My Sons, recently revived on Broadway in a successful production starring John Lithgow and Dianne Wiest, is a Marxist-inspired drama about a parts manufacturer who commits suicide after his son, a war veteran, exposes the fraud that the family firm has perpetrated in passing off defective planes as ready for combat. In this play Miller was finally able to show how personal lives intersect with the fate of society. F.B.I. and anti-Communist groups alike targeted him as a writer hostile to American capitalism, thus setting in motion events that resulted in his famous encounter with HUAC in 1956.