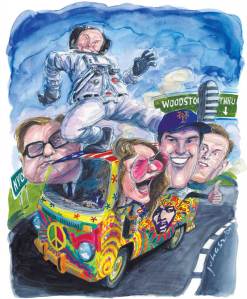 In this summer of our discontent, a season of buckling banks and wheezing newspapers, it might be well to remember that as far as crisis years go, 2009 is a wimp. But when it comes to New York City, disaster breeds resurrection.
As in: 40 years ago, 1969. Richard Nixon had been elected president with bullet-headed, venom-spouting know-nothing Spiro Agnew as his vice president; the war in Vietnam was in full throttle; New York had lost its Senator Robert F. Kennedy; America's cities were on the precipice of destruction; New York itself was churning as the white working class rose up, black communities roiled and city services creaked to a halt. The impossibly handsome mayor, blue-eyed, crooked-toothed WASP Republican John Lindsay, who had been elected as the white knight of urban politics in 1965, was running for reelection and had lost his primary to Senator John Marchi of Staten Island. He was suddenly a man without a party line.
The New York Yankees were playing without Mickey Mantle for the first time since 1950.
New York City, exhausted, filthy, hot, wheezing, broke and worn out, had gone from being the greatest city of winners in the world to looking like a grimy city of losers. The next mayor of New York was about to be an angry tough conservative Democrat with a pencil moustache named Mario Procaccino, who was pictured on the cover of Time leading the white working class as they stormed the Bastille of New York power.
And then history sneezed. For one weird, hot summer, events became a mad spasm in New York City.
There was, of course, the fact that man was about to drop his first boot on the moon. There was the massive, naked, muddy majesty of Woodstock, which was a cultural shock to the American consciousness.
But mostly the story of New York City in 1969 was the mysterious convergence of two weird partners: the scampy New York Mets and the aristocratic prep-schooled, Yale-educated, baseball-innocent mayor, John Lindsay.
The New York Mets, managed by the former Brooklyn Dodgers all-star first baseman Gil Hodges, began winning games, led by their two young starting pitchers, Tom Seaver and Jerry Koosman. And John V. Lindsay began to gain in the polls as the New York tradition of white limousine liberals, working-class voters and the black community began to assert itself.
"Locally, the city is being torn apart," said Jay Kriegel, then a driven, black-spectacled aide to Mayor Lindsay in his City Hall Camelot. "Conflicts are raging. You go through a transit strike, three teachers' strikes, the teamsters are opening up drawbridges so people can't cross them by day. It was crazy!"
"I was chief of staff to Senator Jacob Javits and I knew John Lindsay from a few meetings at state caucuses," said Richard Aurelio, Mr. Lindsay's campaign manager that year. "He asked me, I guess, in the spring of '69 to run his campaign. He showed me the polls, which had him at a very low margin."
Mr. Aurelio immediately recommended that he forgo running from the Republican primary—he felt there wasn't a chance he could win. But the base of Mr. Lindsay's home district—the so-called Silk Stocking 17th Congressional District—insisted he run. He lost to John Marchi.
"Primary night when it was announced Marchi had won, it was one of the most dispiriting nights in my life," said Sid Davidoff, the deputy campaign manager. "We had come in there as the first Republican mayor in forever and then we lost that primary."
"The polls asked: What do you most dislike about John Lindsay?" said Mr. Aurelio. And the polls said "he was too preferential to the blacks, to minorities. That struck me as being just as something we could turn around. My experience in New York was that New Yorkers had a social conscience, and this to me seemed a little bit bizarre and atypical of the real New York that I knew. And so I agreed to take it on."
"I thought there had to be three elements to our campaign:
"One he had to acknowledge mistakes in his first term in a way to humble himself; we had to bring him down to size," he said. "You know, he was a huge in a kind of high-class elegant way and he was tall, handsome. We had to bring him down to size and show a little bit of humbleness."
"One of the knocks on Lindsay was that he was an elitist and a tall guy in a suit who was out of touch with us," said Ken Auletta, the New Yorker writer who was then a speechwriter for Democrat Howard Samuels. "Then he was in this ad where he appeared facing the camera, which was unusual then, with his sleeves rolled up, and he apologized and he was talking about the mistakes he made. It was a very compelling ad."
"Two, his campaign had to be based on confronting the hostile neighborhoods, not his base," said Mr. Aurelio. "We weren't going to spend any time at rallies where he was going to be cheered. We were going to go to the boroughs where most of the hostility occurred. We were going to confront the people in Queens who were angry about the snowstorm and the Brooklyn Jewish neighborhoods that were angry about the decentralization ideas and his preference for the black neighborhoods. We needed to prick their conscience.
"Three, was his willingness to come out against Vietnam, which was unpopular in New York."
But most of all, John Lindsay benefited from his competition.
There was Mario Procaccino, the Akim Tamiroff look-alike, a Bronx-native who was the city comptroller.
"The setup encouraged me the day after the primary," said Mr. Aurelio. "We were essentially running against two conservatives. We had Procaccino and Marchi, two Italians, and they were kind of splitting the Italian-American vote and they were splitting the conservative vote, and splitting the anti-Lindsay vote. Procaccino … was linked to the old Democratic organizations and the so-called Democratic bosses, which were gradually losing their power. Marchi was a clear conservative and endorsed by Bill Buckley and that crowd."
"Procaccino didn't fit the occasion!" said Jimmy Breslin, the journalist who wrote New York magazine's epochal piece "Is Lindsay Too Tall to Be Mayor?" that summer. "He's your mayor? That fucking midget Procaccino would have said something crazy."
"Procaccino was a funny-looking man and he was a total joke," said Ronnie Eldridge, now married to Mr. Breslin, and a point person in recruiting Democrats to Mr. Lindsay's campaign in the summer of 1969.
"Procaccino was a blustery guy and he had an attitude about other Democrats: fuck 'em," said Mr. Auletta. "He didn't reach out to Democrats. He was short, but he was also a very small man. Lindsay immediately had the sympathy of Democrats everywhere."
One of those Democrats was Mr. Auletta's boss, Howard Samuels. Mr. Samuels, along with a handful of others, like future Congresswoman Bella Abzug, defected to support Mr. Lindsay. Meanwhile, Mr. Aurielo secured Alex Rose, the man who ran the Liberal Party—the still-powerful vessel of Franklin D. Roosevelt's New York—to give their nomination to Mr. Lindsay.
"We had Democratic support, even though there weren't a lot of them, and we scheduled their endorsements on almost a daily basis," said Mr. Aurelio. "You got the impression that they were all supporting him even though there were 20 to 30 figures who backed him."
"Somebody asked Frank Hogan"—the almost-permanent district attorney of New York—"at Gracie Mansion, at some freakin' meeting, about John Lindsay," said Jimmy Breslin, "and he said in the parking lot that Lindsay was the best mayor for the law enforcement we've had. Hogan's name at that time was priceless. He was the big name in law enforcement in fucking America for crying out loud!