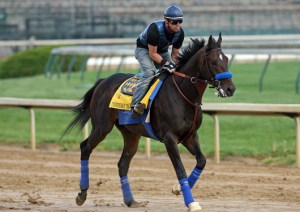 On Saturday afternoon shortly after 6 o'clock the starter will spring the latch to send the field of 20 on their way in the 135th Kentucky Derby.
One majestic thoroughbred will take several thousand racing fans on a ride of a lifetime en route to winning the Kentucky Derby!
Let's take a closer look at the contenders.
#11—Chocolate Candy: Ran third to Pioneer of the Nile. He's an improving colt. Mike Smith is in the saddle. He knows how to win the big one. Will be a nice price on Derby day. Use in exotics.
#19—Desert Party: One of two colts from the Godolphin stable. Was beaten by stable-mate Regal Ransom in the UAE Derby. Has had some good works at Churchill Downs. Regal Ransom should make sure of a good early pace in the race.
#15—Dunkirk: Lost his jockey Garret Gomez when he went to ride Pioneer of the Nile. Will have Edgar Prado in the saddle. With no racing as a two-year old, he'll have to be a super horse to win this race, but this colt can hit the board. He will be heard from down the road, in other big races.
#6—Friesan Fire: Has done nothing but win. He will be coming off a seven-week layoff. Has been training well. The question about him going a mile and a quarter will be answered. He has never run farther then a mile and a sixteenth.
#13—I Want Revenge: Has been beaten by Pioneer of the Nile on the West Coast but has turned into a monster when shipped to the East Coast to run on dirt. In my 37 years of following horses, I have never seen a performance like the one he put together in the Wood Memorial. Will he be able to put together three great performances in a row? I Want Revenge and Pioneer of the Nile could become one of the great rivalries in racing.
#3—Mr. Hot Stuff: Is an improving colt? Will be closing in the lane. He's a full brother to Colonel John. Use in exotics.
#7—Papa Clem: Ran a good race in first dirt start. Should be in the early mix. Has finished first or second in four races around two turns.
#16—Pioneer of the Nile: This colt has been my top pick since the beginning of my reports. Has not lost a race since he's been taken over by Bob Baffert. He's won four stakes races. I think Nile will run that same kind of race I Want Revenge ran in his first race on dirt. The Derby should set up perfectly for him. He will get a good pace to close into. He's the type of colt that has a refuse-to-lose attitude. Garret Gomez is sticking.

And now, my selections:
#16—Pioneer of the Nile
#13—I Want Revenge
#11—Chocolate Candy
#15—Dunkirk
Good luck and safe trips to all the horses and jockeys.
See you at the windows.