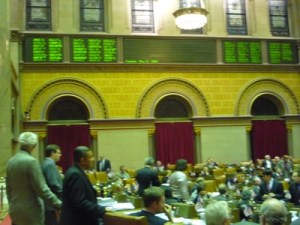 ALBANY—After four hours of debate and a technical problem that crashed the chamber's electronic voting mechanisms, the bill legalizing same-sex marriage passed the Assembly by a vote of 89 to 52.
The result–not a surprise, but a wider margin than in previous years–was greeted with applause from advocates in the overlooking balconies as well as the members on the floor who supported the measure. There were kisses and hugs for the chamber's three openly gay members–Matt Titone, Deborah Glick and Danny O'Donnell, who carried the bill–as well as Micah Kellner, who is openly bisexual.
Now it's up to the Senate, where passage is in doubt.
Six assembly members were absent for the vote: Karim Camara, David Gantt, Carl Heastie, Marge Markey, Grace Meng and Marc Molinaro. Additionally, Crystal Peoples did not vote. Since 2007, when the measure passed 85-61, five members changed from no to yes. They are Tim Gordon, Sandra Galef, Janet Duprey, Fred Thiele and Bob Reilly. (Peoples voted yes in 2007, so it's 85+5-1, for those of you doing math at home.)
People are gravitating down State Street to O'Donnell's engagement party.