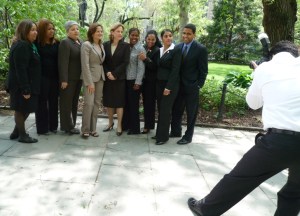 Here's City Councilwoman Melinda with a bunch of City Council members who are endorsing her campaign for city comptroller.
The Katz campaign gathered outside City Hall for a very public photo-op in an effort to offset the notion that John Liu is the only candidate in the race with diverse support.
"I'm honored to have such a good relationship with the people I work with," said Katz.
Attendees include Maria Baez, Annabel Palma, Maria del Carmen Arroyo, Melissa Mark-Viverito, Helen Foster, Julissa Ferreras, Diana Reyna and Miguel Martinez.
They posed for several photographs as a group, then broke up into smaller groups, presumably to produce pictures for use in more-targeted mailings later in the campaign. They're all up for re-election this September.