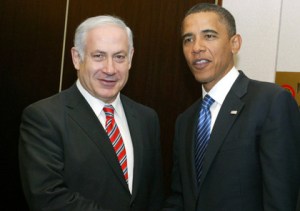 If you haven't heard of J Street, you're not alone. The self-styled "pro-Israel, pro-peace" group was launched a year ago, but it's mostly toiled in the formidable shadow of AIPAC, the half-century-old lobbying powerhouse that has long been regarded as the voice of the American Jewish community on matters relating to Israel—and that, as The New York Times put it this week, regards J Street as "lint."
But J Street hopes that its moment, if it is to have one, will soon arrive, thanks in no small part to Israel's recently elected right-wing government headed by Benjamin Netanyahu. Netanyahu addressed this week's AIPAC conference in Washington and made headlines by pledging his commitment to renewed political negotiations with the Palestinians—a reversal that suddenly puts him on the same page as Barack Obama.
Jeremy Ben-Ami, J Street's executive director and a former policy adviser to Bill Clinton and Howard Dean, isn't buying it, though.
"I don't think Netanyahu has changed his tune very much," he said this week. "There might be some different words in the mix, but it's the same tune, and I think it is not the right path for either Israel or the United States."
Ben-Ami insists his group does not aspire to an "oppositional" relationship with AIPAC, but it's hard not to see how things can be much different, particularly if his suspicions about Netanyahu prove valid.
As part of its stated mission to "help make Israel more secure by ensuring that American support remains strong," AIPAC defends and promotes the policies of the government in power to an American audience. This now puts them in line with Netanyahu's Likud Party (and others on the conservative end of the Israeli political spectrum), which tends to be wary of dealmaking with the Palestinians and more enthusiastic about Israeli expansion through settlements in the Palestinian territories.
That's where J Street parts company with them.
"We believe it is an urgent matter of life and death for the state of Israel, as a Jewish democratic state, to reach a resolution to the conflict it has with its neighbors and with the Palestinians in the very near future," Ben-Ami said. "I don't hear that from AIPAC."
There is also within AIPAC, Ben-Ami said, a view that "this is something the Israelis and the Palestinians need to decide on their own … and that there's not really a role at the table in a hands-on manner for any outside parties. That's not really where J Street is at. That's not really where the Obama administration is at."
Simply put, it is because of Obama, who has repeatedly stated that the creation of a viable Palestinian state is a first-term priority, that J Street now hopes to emerge as a real player.
With AIPAC almost certain to align itself with Netanyahu in any confrontation with the White House—and to position itself as a public counterweight to anyone in the administration who criticizes the Netanyahu government's policies—Obama will need cover from the American Jewish community if he's serious about pressing ahead with his peace agenda. And make no mistake: Despite Netanyahu's apparently conciliatory posture this week, a confrontation between the governments still seems likely.
Friction between the two leaders, after all, was the reason Netanyahu spoke via satellite to AIPAC this week. Because Netanyahu had been refusing to even discuss a Palestinian state (preferring to speak only of what he called "economic peace" with the Palestinians), Obama was not prepared to meet with him if he made the trip to D.C. By pledging to participate in discussions, Netanyahu has apparently cleared the way for a White House visit in the next few weeks. 
But there's reason to agree with Ben-Ami's hunch that Netanyahu was saying just enough to get the American president off his back, for now.
For instance, while he spoke of "political negotiations," Netanyahu never once used the term "two-state solution," nor did he explicitly endorse—or even mention—the concept of a Palestinian state. Nor did he mention Israel's settlements in the West Bank and East Jerusalem, which have nearly doubled in the last 10 years and which continue to eat into the land supposedly reserved for a Palestinian state—settlements that he has previously promised to expand even further.
There's also the presence of Avigdor Lieberman, best known for anti-Arab incitement that falls somewhere between demagogic and flat-out racist, as Netanyahu's defense foreign minister, and Netanyahu's own track record as P.M. from 1996 to 1999, when the Oslo peace process turned to dust. Joe Lockhart, who served as Bill Clinton's press secretary toward the end of Netanyahu's tenure, once dubbed the Israeli leader "just a liar and a cheat. He could open his mouth and you could have no confidence that anything that came out of it was the truth."
Will Obama's experience be much different? 
Ben-Ami is adamant that "concrete results" must be obtained in the immediate future—no more "starting another conference where the sides talk for 10 or 15 years."
For now, as Ben-Ami is happy to point out, the Obama administration is on the same page. When he spoke at AIPAC on Tuesday, Joe Biden pointedly called for an end to settlement expansion and for the dismantlement of existing "outposts" (that is, settlements that weren't officially sanctioned by the Israeli government). This is also where the majority of the American Jewish community is, Ben-Ami insists.
 "AIPAC does not speak as a sole voice of Jewish Americans and it doesn't speak as the sole voice of people who care about the future of the state of Israel," he said.
We'll see. Past presidents have also tried to take a hard line with Israeli governments over the settlement issue, most notably George H. W. Bush, who withheld $10 billion in loan guarantees in 1992 after Yitzhak Shamir's Likud government broke its promises to curb settlement growth. As the standoff persisted for months, AIPAC made Bush's political life miserable—just as he was entering into a difficult reelection campaign.
Bush didn't receive any cover back then. Maybe J Street will be able to give Obama some this time around.