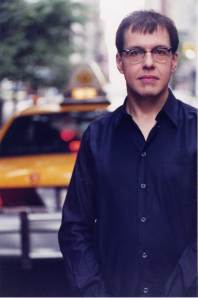 Bruce Brubaker leaned forward, crowding the diner booth where he had been talking to The Observer for an hour, and posed the dissertation-ready question that had emerged after a conversation veering from Beethoven to Barthes to the novels of Thomas Bernhard: "You'd like to think, 'I'm an artist. I have my original response to this music and this is my way of doing things.' But are we actually heading to a point where, ultimately, the computer may be able to play more expressively than any of us? Once you get to that, what will artists do?"
It's a question that the forty-something Mr. Brubaker, chair of the piano department at the New England Conservatory in Boston since 2005, has lately dedicated much of his time to answering. In one recent experiment, Mr. Brubaker joined composer Nico Muhly at Boston's Institute for Contemporary Art to create a piece called Haydnseek, in which Mr. Muhly added an overlay of electronic sound to Mr. Brubaker's live performance of works by Haydn.
The idea, Mr. Brubaker explained, was to revive our experience of canonical composers by making them seem less familiar. "Because of the nature of old classical-music culture, certain pieces are just repeated so often that they become difficult to hear; your recognition mechanism kicks in and says, 'That's the Fifth Symphony,' or, 'That's a certain piece by Mozart,' and you don't really hear it anymore," Mr. Brubaker said. "It's almost like putting graffiti on something. Some people have said, 'Isn't that kind of disrespectful or offensive to Haydn?' My sense is, it's actually a provocation to people to really listen. You have to scrutinize it much more."
On the topic of music's future, Mr. Brubaker is, in the manner of all visionaries, vague but inspiring. He is especially intrigued by the way the Web makes collaboration possible on a seemingly unlimited scale. At any rate, Mr. Brubaker said, the kind of unconventional programming that combines pop music with standard repertory is unlikely to revive the economically stagnant classical-music establishment.
"I get the feeling that people from the classical side have done this as some kind of last-ditch effort to hang on to the way they viewed the old classical-music establishment," he said. "It's as if to say, 'I'll play this pop music and you'll still get to hear me play Liszt.'
"It comes back to the idea that I'm still a real pianist because I can play these really hard virtuoso pieces, or that I have some kind of legitimacy because I spent 20,000 hours practicing—that I have this legitimacy just because I can subdue you by the force of my Liszt!"
Mr. Brubaker's demeanor was calm, cheerful, optimistic—as though the idea of classical music vanishing into a virtual cloud of perpetual recombination didn't bother him one bit. And it doesn't: Mr. Brubaker sees the modern focus on virtuosity and concert performance as a historical anomaly. "Take Beethoven's Hammerklavier as an example," he said. "I think pianists took that home, looked at it and said, 'Wow.' I don't think they mastered it."
He has made a point of championing the work of living composers like William Duckworth, whose Time Curve Preludes Mr. Brubaker has revived on his newest piano recording, Time Curve (Arabesque), set for a summer release. "The old idea that you're going to … just have the linear work that's going to be bounded and contained—it's going to be really hard to hold on to it," he said. "And I'm not so sure that we should lament that."
ddacosta@observer.com