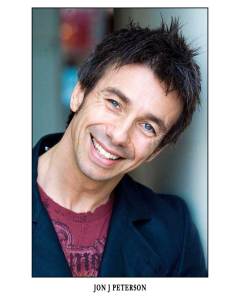 Jon Peterson: Song Man Dance Man
The Triad, 158 West 72 Street
With youth, one expects energy and exuberance, but good looks, intelligence and talent are rarely found in the same package. Jon Peterson, an enchanting new performer from England who has "adopted" the Apple as his own, has got it all. In Song Man Dance Man, an entertaining nonstop revue at the beautifully refurbished cabaret theater called the Triad, Mr. Peterson is paying homage to the historic song-and-dance icons George M. Cohan, Fred Astaire, Gene Kelly, Bobby Darin and Anthony Newley. A combination of Tommy Steele and Norman Wisdom, he was a veteran of the Royal Ballet School at 9 years old. But Swan Lake didn't hold a candle to MGM musicals, and Mr. Peterson never had any doubt what he wanted to be when he grew up. He is, in many ways, the real Billy Elliot.
Unfortunately, by the time he was handsome and supple enough to become the new Bob Fosse, movie musicals were over. That hasn't stopped him from emulating his heroes. From a vaudeville trunk he extracts top hats, canes, baseball caps and props to create his own version of That's Entertainment! His Bobby Darin needs work, but the athletic cockiness of Gene Kelly shines through, tough but tender on "For Me and My Gal" and wet dancing with an umbrella on "Singin' in the Rain." He doesn't imitate the cockney of fellow Londoner Anthony Newley. He channels him, until his "Once in a Lifetime" sends chills down your spine. His biographical patter is revealing, his personal revelations are endearing and his tap-dancing is aces high. With flipper shoes, baggy pants, white gloves protruding from a long purple coat, orange shirt and polka dot tie, he kneels in front of a mirror applying clown makeup and emerges as Kelly singing Cole Porter's "Be a Clown" in The Pirate, then keeps the makeup on for "What Kind of Fool Am I?" which displays the serious, lonely side of a clown and builds to a perfect finale.
Out of character, his floppy hair refuses to stay in place, and his smile is as warm as Palm Springs in December. With Hermes Pan to do the choreography, Conrad Salinger to write the arrangements and Ira Gershwin to pen the lyrics, Jon Peterson could have been a big star. Even in the creatively bankrupt show business world of today, he vibrates with talent and charisma, and in the right vehicle he could own the stage.
rreed@observer.com