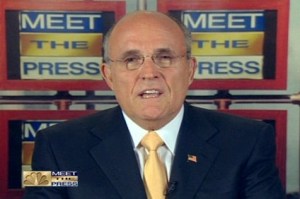 We have now reached the point when it is considered non-news each time another poll is trotted out that shows Governor David Paterson trailing by more than 40 points in a prospective Democratic primary matchup with Andrew Cuomo.
Still, the Quinnipiac University survey released on Wednesday, which contained the obligatory Paterson-Cuomo questions (they measured the gap at 45 points, for the record), did produce a surprising finding: Rudy Giuliani now only trails Cuomo by 6 points in a prospective general-election matchup, 47 to 41 percent.
That would seem to represent significant progress for the former mayor and presidential aspirant, who has generally lagged between 15 and 20 points behind Cuomo. For instance, in Quinnipiac's last poll a month ago, Cuomo led Giuliani 53 to 36 percent, and a more recent Marist survey had Cuomo up 55 to 38.
Of course, there's plenty of reason to doubt that there's really been any movement at all. After all, Cuomo's own personal ratings haven't fallen at all (he notches a 68-12 percent job approval score for his work as attorney general), and it's not like Giuliani has said or done anything in the last few weeks that might trigger a stampede in his direction. So, until and unless another independent poll finds a similar result, it's best to regard the 6-point Cuomo-Giuliani number as a bit of an outlier.
But the mere possibility that Giuliani might be within striking distance of Cuomo raises an interesting question: What exactly would it take for Giuliani to actually go through with a candidacy against the mega-popular AG?
Sure, Giuliani has been flirting with a gubernatorial bid for a few months now, doing just enough to keep his name in the mix but not much more. The working assumption is that his holding pattern has everything to do with the uncertainty on the Democratic side.
Back in November, when Giuliani first started making noise about 2010, it still seemed a good possibility that Paterson, whose numbers had been dropping but hadn't yet reached toxic levels, would be the Democratic nominee. But since then, Paterson has entered into a full-scale free fall, to the point that a Cuomo candidacy seems almost unavoidable.
Giuliani, whose ego suffered enough when his once front-running presidential campaign ended with fewer votes than Ron Paul and just one convention delegate, is not in the market for another embarrassment—which, it has seemed, he'd only be asking for by running against Cuomo.
To appreciate just how formidable Cuomo has become, just compare his job approval scores to those of his predecessor, Eliot Spitzer, whose use of the AG's office for public-relations glory Cuomo has mimicked perfectly. In the fall of 2005, Spitzer scored a 60-17 percent approval rating in a Quinnipiac poll (59-15 among Republicans!). That standing was enough to scare off credible Republican opposition for the 2006 governor's race, which turned into a yearlong coronation ceremony for Spitzer. Cuomo's scores, if anything, are slightly better now than Spitzer's were back then. 
So Giuliani's game has been to wait for something to give on the Democratic side. If Paterson can somehow keep Cuomo out of the race, then the water would be warm for Giuliani. Otherwise, forget it. (Plus, considering all of those nice things he had to say about Mario Cuomo back in 1994, maybe Giuliani just thinks the apple didn't fall far from the tree.)
But if the new Quinnipiac finding ends up being replicated in other polls, Giuliani's calculations will get more complicated. The issue then would be how badly he wants to post a redemptive election victory after his presidential debacle, and how much he's willing to risk in pursuit on one.
Other ex-office-holders who fell short on the presidential stage have been in similar positions before. For instance, Lamar Alexander's failed presidential bids in 1996 and 2000 revived his name recognition in his home state of Tennessee, where he'd last run for office in 1982, when he'd been reelected governor. Alexander parlayed that into a successful U.S. Senate campaign in 2002, the same year that Elizabeth Dole followed up her disastrous 2000 White House bid with a winning Senate campaign of her own in North Carolina.
But there are risks in taking the plunge. Walter Mondale, who suffered a general-election catastrophe in 1984 every bit as humiliating as Giuliani's primary flameout last year, emerged from his presidential campaign as a national punch line. But in his native Minnesota (the only state he carried against Ronald Reagan), he retained considerable popularity, much as Giuliani has in New York (he notched a 56-32 favorable rating in the Quinnipiac poll). At the age of 62, Mondale toyed with mounting a comeback bid for the Senate in 1990 against Republican incumbent Rudy Boschwitz, but begged off, fearing another humbling defeat. Twelve years later, when Paul Wellstone (who'd ended up knocking off Boschwitz in a stunning upset in '90) died a week before the election, Mondale jumped into the race, only to lose to Norm Coleman.
Giuliani is being as cautious as Mondale was 19 years ago, and his final decision is likely to be the same. A poll that shows a relatively close race against Cuomo—who made the ill-advised comment during the 2002 Democratic governor's primary that George Pataki held Giuliani's coat after 9/11—might give him second thoughts. But in the end, the prospect of running against such a popular figure in such a Democratic state will probably be more than Rudy can handle.