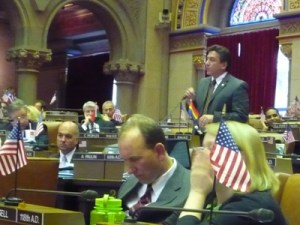 ALBANY—The debate on the same-sex marriage bill in the State Assembly began at 4:52 p.m., with bill sponsor Assemblyman Danny O'Donnell calmly answering questions from Assemblyman Jack Quinn.
Their exchange was respectful, and at times funny. The first strong position was taken by Assemblyman Mike Fitzpatrick, a Long Island Republican, who opposed the bill because he said it would force organizations or public accommodations with a religious belief—say, a Knights of Columbus Hall—to accept same-sex couples. His exchange with O'Donnell grew heated.
"By conferring a marriage license, we are saying that marriage is equal for heterosexuals as well as homosexuals," Fitzpatrick said. "And the problem I have is that, while the law cannot force any religious organization to solemnize or legitimize homosexual marriage, it will force society to recognize the legitimacy of homosexual marriage."
He wondered if there could be a provision for "conscientious objection" by some institutions. O'Donnell said this amounted to discrimination.
"The laws of discrimination and the human rights are what they are," he replied.
"What you're attempting to do is to legislate discrimination," Fitzpatrick replied.
"This is not about anybody's religion," O'Donnell replied. "I am entitled to the same paper you have, Michael, whether you want me to or not."
Fitzpatrick continued, saying a catering hall, for example, "has a right, I think, to discriminate on those grounds, if it is a religious institution."
"You ought to go to law school and read the law," O'Donnell replied. "You want to change the human rights law or the discrimination law, you can put in a bill to do that."
"I disagree, Dan, because I think there is a coming collision between what you're attempting to do and every faith that does not agree with gay marriage. This will be tested in court," Fitzpatrick replied.
Next came a speech by Assemblyman Matt Titone—who like O'Donnell, is openly gay—that invoked his recently deceased mother Margaret. As she lay on her death bed, he said, he gathered around with his sister and his brother-in-law. His partner of 16 years, Josh, had trouble getting into the hospital room.
"He was excluded from seeing her, the woman he had loved for the last 16 years, because he could not give a legal definition of what his relationship was to the family other than to say he was with the family."
"Two years ago in this very chamber, gay people everywhere were put in the same basket as bestiality, incestuousness, pedophilia, and deviation," he said. "In a word, it's discrimination."
"One of you said it would take an act of God for you to vote for this legislation," Titone continued. "For the past two years, I have been thinking and rethinking what that meant, an act of God."
"There are millions upon millions of acts of God that walk every single country on this small planet," Titone said. "We are your sons, your daughters; we are your brothers, your sisters. We are your nieces, your nephews. When it comes to demanding an act of God, I say your cup doth runneth over. My cup, however, is about 1,300 rights shy of being full."
He turned toward Fitzpatrick, who sat less than a dozen feet from him and whose face had grown taught.
"Look, Mike, I'm not looking for the right to force the Pope to preside over my big fat gay wedding," Titone said. "What I'm looking for is the right to go to City Hall, and pay a fee, and get a marriage certificate, and then have the right to go to the hospital and visit my mother-in-law on her death bed. That's all."
A few moments later, Assemblyman Dov Hikind, a Brooklyn Democrat and Orthodox Jew, rose. It was he who had made the comment to which Titone referred.
"It is about God," he said, waving a leather-bound copy of the Book of Leviticus. "It is about what I believe God wants. And I don't separate, you know, being the political figure and being the individual. How do you do that?"
"God is not a politician, to the best of my knowledge God does not flip-flop on the issues, either," he continued, referencing a letter he and colleagues received today from Kirsten Gillibrand and Chuck Schumer. "Suddenly Gillibrand is telling me that I should support gay marriage. I would love to know how she came to that conclusion on her own. I'm sure politics played absolutely no role. I'm sure it was about principal, about morality, about being fair."
The debate carried on over three hours. It was at times funny. Assemblyman Joel Miller, one of four Republicans who voted for the measure in 2007, used different voices and compared same-sex marriage to marijuana; neither, he said, is the drug of the establishment.
Assemblyman Andrew Hevesi, a Democrat from Forest Hills, announced that he is expecting his first child soon.
"I find the laws of the State of New York an assault on my child and my child's rights," he said. "I don't know if my child is going to be a boy or girl, or gay or straight, and it's irrelevant to me." He just knows he's going to love his child until "it's time for him or her to take over this Assembly seat and suffer like the rest of us did."
Four members—Janet Duprey, Sandra Galef, Fred Thiele and Bob Reilly—explained why they were voting differently than in 2007. Assemblyman Frank Skartados, who defeated Assemblyman Tom Kirwan, vowed to vote yes.