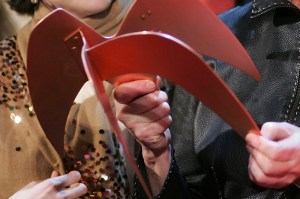 In the past the National Magazine Awards, the big show where the American Society of Magazine Editors gives out "Ellies" to the year's big magazine winners, have been lavish affairs. Lots of drinks. Chocolate fondue. Gowns and black ties at Jazz at Lincoln Center.
But this year, with the industry falling to its knees, the awards were understated. There was cocktail attire in lieu of monkey suits and gowns last night. ("Thank you to the genius who got rid of the black tie requirement," said David Remnick when his magazine took home an award, a joke that bombed big time.) There were fewer attendees. The name tags for press reporters covering the event was discouragingly small. The open bar closed promptly at a few minutes before 7, meaning it was open barely an hour, disappointing pretty much the entire room. Time Inc. CEO Ann Moore was overheard marveling to a friend how the small the event was; Tom Florio, the Vogue publisher, said the same thing.
But first, the business end of the evening: It was a year with upsets insofar that any year can be defined by upsets. No single magazine stood out last night: Backpacker—Backpacker!—took home three awards, which is as many as Esquire, The New Yorker or Wired.
Field & Stream beat The New Yorker for General Excellence with circulation of 1 million to 2 million. Bicycling won for public interest ("Bicycling? Seriously?!" said Loren Mooney, the editor of Bicycling, when she got to the stage); Automobile beat out The Nation, The New Republic, The New Yorker and Sports Illustrated for Comments and Commentary.
AARP beat Salon, National Geographic, Wired and Epicurious for Best Interactive Feature.
It was that kind of night. The New Yorker won for its photography, its fiction and for the essays of James Wood, but nothing else. New York magazine won for general excellence online, but otherwise, Adam Moss was unusually absent from the show—his magazine didn't win another Ellie.
In speeches last night there was, predictably, some faint desperation in the air. It's an annual event for Condé Nast editors to thank Si Newhouse, but it felt more significant.
Wired editor Chris Anderson, after winning for one of his three awards last night, came up and told a story. He said there was a monthly meeting at Condé Nast and he had to present the cover of Wired to Mr. Newhouse. Vogue and Vanity Fair, which presented at the same meeting, both had fantastic covers. Mr. Anderson wanted to put something called the Gaussian copula function on his cover, which is "the secret formula that destroyed Wall Street."
"I said, 'This is probably going to tank on the newsstand, but it's a really cool story," said Mr. Anderson. "And Si said, 'Oh, it doesn't matter.'"
The crowd laughed hard and long.
"But it gave me courage and gives me courage, so thank you, Si, for allowing us to be brave," said Mr. Anderson, whose magazine declined 57.2 percent in ad pages in the first quarter.
"Thank you to our publisher Lisa Hughes, and to Si Newhouse, who I like to think of as the Babe Ruth of magazine proprietors," said Mr. Remnick after Mr. Wood won for reviews and criticism. "Not every ball goes over all the wall, but history remembers the one who takes the big swings, the ones who takes chances."
Wait … do we smell a trend? It isn't the first time we heard that last night!
"We swing for the bleachers every day at Condé Nast," said Vogue publisher Tom Florio in an interview at a cocktail reception before the awards began. "And if you swing for the bleachers? Sometimes you strike out. Somebody yesterday at the meeting said, 'Babe Ruth led the league in strikeouts, and led the league in homers. If you don't have the balls to swing, you'll never hit."
It's an intriguing metaphor: For one, it offers Condé Nast employees the chance to compare Si to the Greatest That Ever Played. Sure. But you know … well, Babe Ruth doesn't play anymore, and hasn't in about seven decades. It's interesting to hear Mr. Remnick discuss Mr. Newhouse and legacies and history. Is everyone writing the history now before it gets worse?
Also, sometimes thank-yous can only get you so far. Editors and executives always warn that Ellies never translate into ad/sales success. Last year Portfolio won for its "In Brief" section and Ms. Lipman praised and praised Mr. Newhouse.
In any event, the Condé Nast editors weren't the only ones who had to say thank you (in fact, Time Inc. editors never got a chance—they didn't win an Ellie). Other places need it, too.
"I'd like to thank my bosses Bill Keller and Arthur Sulzberger," said a particularly jittery Gerry Marzorati, the editor of The New York Times Magazine, which won the Reporting category for a story by Dexter Filkins. "This kind of reporting costs a lot of money. It's not a particularly good time at The New York Times to be asking people for a lot of money."
No, it is not, and he was particularly grateful for the investment. It was also the Times Magazine's first-ever Ellie. This was the magazine's second year of eligibility.
"I really believe that Dexter is the era's great war reporter, and this is all about him," he said.