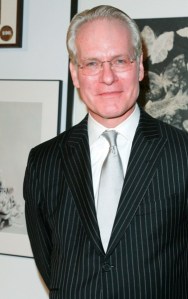 On Wednesday morning, May 6, Steven Kolb, executive director of the Council of Fashion Designers of America, along with Project Runway judge Tim Gunn and the show's Season 5 winner Leanne Marshall, boarded a 6 a.m. train at Penn Station bound for Washington, D.C.
They had appointments lined up for the entire day to gain the support of lawmakers for the proposed Design Piracy Prohibition Act, introduced last month by New York Democrat Jerry Nadler, among others.
If passed, the bill would provide designers with copyright protection for their creations.
"The travel was complicated by weather patterns," said Mr. Kolb when the Daily Transom rang him yesterday. "We took a train because we were afraid that if we flew we wouldn't get there in time. But then we flew home and didn't get home until around 10 p.m."
With the bill's passage, designers would be able to register their designs (for the price of $30) by emailing a photo or a sketch of a garment to a copyright office, which will ensure a copyright protection of three years. (The bill would not extend retroactively to designs that have already been on the market.) With Mr. Gunn and Ms. Marshall in tow, Mr. Kolb paid visits to politicians, explaining that unlike Europe, India and Japan, the U.S. has no copyright laws when it comes to design. And, if other art forms like film, literature, and music are protected, why isn't fashion?
"Right now you can go on the Today show after a big event, and boast that you've created a Zac Posen dress or an Oscar de la Renta dress and Meredith Vieira will sit down and talk to you about it!" said Mr. Kolb. "If we can create this shield, the morning after one of those award shows, it's going to be Ann Curry talking about someone who stole something and what they did wrong versus celebrating it."
Mr. Gunn seemed like an appropriate person to relay this to the politicians.
"Tim really understands the history of American fashion. Back many years ago, we were a nation of copyists, but we've become really innovative and creative so he was able to give that history lesson and talk about how on Project Runway, creativity is rewarded," said Mr. Kolb. "And Leanne, having won that show, explained how it opened up her creativity to those that steal ideas. She talked about being a small-business person and how when ideas are hijacked from her, it starts to chip away at her foundation and can put her out of business. They were both incredibly compelling and persuasive." (Ms. Marshall even stayed up until 1 a.m. the night before to create an original outfit for the day: a blouse and skirt with her signature zipper detailing.)
Meanwhile, the political folks on the Hill were excited for Mr. Gunn's visit.
"We heard that many of the staffers had this group email that they were sending around that Tim Gunn was on the Hill and did anybody know where he is and what he's doing," said Mr. Kolb. "He and Leanne were very popular."
In fact, Congressman Lamar Smith (R-Tex.) even brought in his entire staff into the meeting so that Mr. Gunn could critique their outfits that day. Mr. Gunn, of course, played along. "He was spot on!" said Mr. Kolb. Meanwhile two other staffers, a man and a woman, asked the group how they might "spice up" their wardrobe given how conservative people in their position must typically dress. Ms. Marshall dispensed advice about incorporating color and pattern and not being so coordinated all the time.
"I've been to Washington many times, and before the Obamas were in the White House there was a sense of insecurity among the men and the women about how they were dressed," observed Mr. Kolb. "They would ask, 'Am I dressed O.K.?' or like, 'My wife made me wear this tie because she knew CFDA was coming.' There is a little bit more confidence now given all the attention that American fashion is getting, but people still want that validation."
Mr. Kolb has been traveling to D.C. a lot lately. Just last week, he was there with the designers Narciso Rodriguez, Jason Wu, Maria Cornejo and Thakoon Panichgul. Next Wednesday, Mr. Kolb will be returning with Tracy Reese and Francisco Costa.
"We want it to happen in this Congressional session," he said.