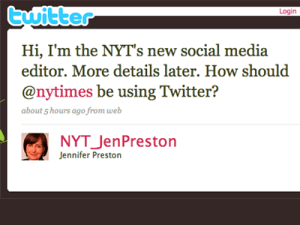 In mid-May, The New York Times suffered some social media growing pains when details from an internal meeting about Web strategy were broadcast on several reporters' Twitter feeds. "We need a zone of trust," Times executive editor Bill Keller scolded staffers at the time, "where people can say what's on their minds without fear of having an unscripted remark or a partially baked idea zapped into cyberspace.
"Think of it as common courtesy," Mr. Keller said.
This week, The Times is attempting to rally that same esprit de tweet more productively by making veteran reporter and editor Jennifer Preston the paper's first social media editor.
The announcement was made on May 26 via Times deputy managing editor Jonathan Landman's Twitter feed. (A proper memo followed.) "I was just having a little fun," Mr. Landman told Off the Record.
Ms. Preston, who previously oversaw The Times' regional weeklies, told The Observer that "everyone recognizes that there is tremendous opportunity with these social media sites to use them to make our journalism stronger. … I've just been playing around with it for the last few weeks—Twitter, Facebook, Digg, Del.icio.us—to figure out how we can just use these tools."
She said her early reporting experience taught her to break stories quickly by whatever means necessary, as well as the Twitterish value of pooling resources. "If I may date myself, you know, when I was covering homicides at 1 Police Plaza, I had to go to the trick book," she said, referring to an irregularly updated, hardbound volume of addresses and phone numbers. "So you could get the quote, 'Oh, he was a very quiet man.'"
(Asked to date herself with an age, Ms. Preston replied, "Why would you ask me that?")
Mr. Landman said that Ms. Preston was tapped to help ensure "some consistency about what we consider good uses of [social media] and bad uses of it."
"Jennifer is extremely enthusiastic," he said. "She's not an expert to start with, but I don't think that's a terrible handicap here in real ways. Nobody's an expert."
mhaber@observer.com