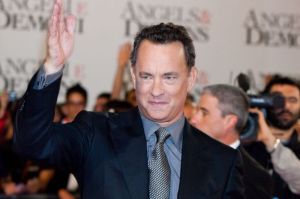 We had the unfortunate displeasure this weekend of sitting through Angels & Demons, Ron Howard's tone-deaf anti-thriller that plods along for more than two hours before ultimately amounting to nothing (that Angels & Demons is a marked improvement on The Da Vinci Code should be all you need to know about the previous film). After the umpteenth faux-cliffhanger—Will another kidnapped Cardinal get brutally killed? Tune in three minutes from now!—we started to notice something quite disconcerting: Tom Hanks has become a total drag. Robotic doesn't even begin to describe how incredibly stiff he looked as he talked about ancient religious symbols (with the depth and breadth of knowledge associated with a Wikipedia entry, of course). So then consider our complete surprise when we found the same Mr. Hanks yuking it up on the season finale of Saturday Night Live, with a glint in the actor's eye that we haven't seen in ages. Talk about a dichotomy! Where has this guy been hiding for the past 10 years? Lately he just looks … bored.
And maybe that's why he was so assured on Saturday Night Live: The show actually challenged him. He seemed more interested in his two brief appearances—a spot on Celebrity Jeopardy playing a dumbed-down version of "Tom Hanks," and a wordless, saxophone-playing walk-on during a cast sing-along of Billy Joel's "Good Night Saigon"—than he has in his last six movies combined. (Though, to be fair, who could get interested in stuff like Charlie Wilson's War and Angels & Demons?) Watching Saturday Night Live reminded us that Mr. Hanks used to be really charming and funny. Frankly, we'd like to see more of that!
We guess the argument could be made that perhaps the material Mr. Hanks is being offered is pabulum, but since this is Tom Hanks we're talking about, it seems logical that he'd be able to get whatever role he desired. Even though current studio economics might prevent movie stars from actually existing anymore, Mr. Hanks should be able to take a page out of the George Clooney playbook and make appearances in smaller movies just because they might actually be good. Or at least we hope that's the case. We're not sure where Mr. Hanks' Michael Clayton is, but it's certainly not hiding behind the specter of the Illuminati. At the very least, here's hoping he's an early favorite to host the season premiere of Saturday Night Live come the fall.