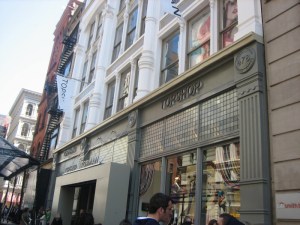 Don't let the overhyped unveiling of the superlatively trashy Topshop in Soho distract you—the British clothing store has never ceased its search for yet more Manhattan locations.
Retail brokers say that Topshop owner Sir Philip Green is continuing to search for at least another couple of spots, about 50,000 square feet each, in all of the obvious high-traffic places: Fifth Avenue, 34th Street, Lexington Avenue near Bloomingdale's, Union Square, Times Square, the meatpacking district, the Upper East and Upper West sides. Basically, anywhere H&M has a store.
Sir Green, the owner of Topshop and apparently a bit of a micromanager, is said to be leading the search—even showing up personally to at least one empty retail space—and will be making all of the final decisions about where the clothier expands.
"They have not let up," said Faith Hope Consolo, chair of retail leasing and sales for Prudential Douglas Elliman, and not involved in Topshop's search. "Their plan was always to have at least a dozen stores in the tristate area, but the concentration is three in Manhattan."
Anecdotally, the shop's current location, at 478 Broadway, is doing well. On a recent visit to the shop at 8:30 p.m. on a weekday, there were still modest queues for the dressing rooms.
But if Topshop really wants to take on H&M, might we suggest lowering the prices? More than $100 for a simple blue blazer? Really?
drubinstein@observer.com