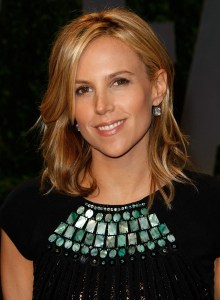 At Lincoln Center's 50th Anniversary spring gala on Thursday night, May 28, generous socials Sid and Mercedes Bass, Jerry Speyer and wife Katherine Farley, and Paul and Daisy Soros joined fashion designers Gilles Mendel and Tory Burch, perhaps to send the message that the recently renovated Lincoln Center is now younger, hipper and ready to welcome Fashion Week.
The petite Mr. Mendel arrived with a very tall and slender date that prompted one on-looker to whisper to her companion, "That is the tallest woman I have ever seen!" The designer said he doesn't get out to Lincoln Center nearly as much as he'd like. "I go sometimes to see the ballet because I love dance, but that's about it," he told the Daily Transom.
How did the designer feel about the new Fashion Week locale?
"It's a fabulous change," he said. "It's a place of culture so to have it associated with fashion is really exciting. Bryant Park was convenient because it was close to my office, but I don't think the location was ideal and I think the surroundings of the West Side and the arts is just an upgrade for the event."
Fashion Week guru Fern Mallis stood nearby. Was she already making mental notes for how to make use of her new digs?
"Yes! I see it all with completely different eyes," Ms. Mallis said of Lincoln Center. "I'm always looking at the space and trying to figure out out how we can use it, utilize it for some element that happens during fashion week."
Would the less centralized location, away from Times Square and the Condé Nast tower, change the generally manic mood of Fashion Week?
"This is still very central, actually," insisted Ms. Mallis. "It's easy to get down to the Garment District, meatpacking, and Chelsea. Also, Time Warner and Hearst publications are near here, so you know, some publications will lose and some will benefit."
As Ms. Mallis undoubtedly knows, during Fashion Week, the shortage of cabs near Bryant Park often leads busy editors, stylists and models to share cabs with one another.
Would Ms. Mallis get into a cab with a stranger for a discounted ride as part of the proposed cab-sharing initiative in New York?
"I would," she replied. "It's a great way to meet people and it's cheaper!"
Philanthropist Laurie Tisch, who sits on the board of Lincoln Center, has already been to Avery Fischer Hall four or five times for various events, including a gala where she was honored a few weeks ago. "It's very different," she leaned in and told Daily Transom.
We wondered if the chairwoman thought sharing cabs with strangers was a fun idea.
"Yeah! Especially with a single man? Yeah!" Ms. Tisch said excitedly. "I think someone should actually do a reality show about the relationships formed in the back of cabs."