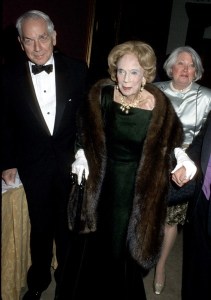 James C.Y. Watt owes his job to the late philanthropist Brooke Astor.
His title: Brooke Russell Astor Chairman of the Metropolitan Museum of Art's Department of Asian Art.
On Wednesday, May 13, Mr. Watt became the second Met official to testify in the high-profile trial of Ms. Astor's son, Anthony Marshall, who stands accused of conspiracy and grand larceny in an alleged plot to take advantage of his elderly mother's Alzheimer's and plunder her vast fortune.
Prosecutors have been making the case that Ms. Astor was of unsound mind when she altered her will to provide some $60 million previously earmarked for charity to her only son, Mr. Marshall.
Mr. Marshall's defense team has been vigorously trying to pick apart that thesis.
"It's not the practice of the Metropolitan Museum of Art to accept gifts from people who are irrational, is it?" asked defense attorney Fred Hafetz.
"It's doesn't happen," Mr. Watt testified in response. "It's a hypothetical question."
Mr. Watt said Ms. Astor was coherent in 2002, when she gave the museum a figure of the God of the North, a sculpture from the Kangxi Period of the Qing Dynasty, valued at $20,000. He said Ms. Astor definitely remembered having pledged the gift.
Defense attorneys also questioned Mr. Watt about a 2003 donation by Ms. Astor, in which she pledged to pay for half of a Buddha sculpture that cost the museum a cool $235,000. Mr. Watt said the payment actually came from funds that had been previously donated by the Vincent Astor Foundation.
Earlier, jurors had seen videos of the Met's famed Christmas parties from 2002 and 2003. In 2003, Mr. Watt testifed that Ms. Astor was "very much weakened compared to the year before," and described her speech as highly unusual for her. "She said, 'happy, happy, happy' several times and 'love, love, love' several times," he recounted.
Ms. Astor had a particular predilection for funding Asian Art at the museum, apparently as a result of early years sent in China as a child. After 2002, he testified, all of his conversations with Ms. Astor revolved around China. He described wearing light suits to meet with Ms. Astor, "because I knew that she was scared of people in dark suits," he told the jury.
Mr. Watt described the accused Mr. Marshall as always being considerate and polite to his mother, though he added that Ms. Astor occasionally spoke ill of her son. "I wish he had made something of himself instead of waiting for the money," Mr. Watt recalled her saying.
Mr. Watt also revealed a rare domestic longing by Ms. Astor, who had been portrayed by others as a committed widow. After the attacks on September 11, 2001, she told him. "It's times like this someone wishes they had a husband."