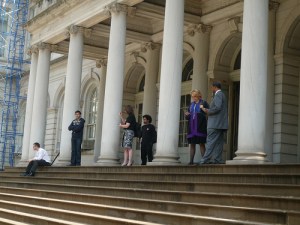 Democrats were reportedly surprised that Barack Obama, in addition to Robert Menendez and Chuck Schumer, personally intervened and asked Steve Israel not to challenge Kirsten Gillibrand.
He was "days away" from announcing he would run, reports the Times Union.
In Rochester this weekend to speak at the ESPA fund-raiser, Gillibrand visited a supermarket.
The Post reports that our new health commissioner will be Dr. Thomas Farley, who has been serving an adviser to Tom Frieden.
He is a major proponent of Bloomberg's aggressive public health measures, and also an infectious disease specialist, which seems appropriate for the flu era.
"This is starting to look like overkill," writes the Times editorial board of Bloomberg's campaign spending. "If spending his own money sends the message that only the rich can win elections, politics in New York City will be far poorer as a result."
Republican state legislators were allotted 7 percent of member-item money.
Twenty-five years after a stretch of the Hudson north of Troy was designated a Superfund site, dredging has begun.
The city just created an Office of Environmental Remediation to deal with brownfield sites that don't qualify under the state program.
If it ever gets that far, the city may not be thrilled with designating Newtown Creek a Superfund site, because it is actually a contributing polluter.
At Fault Lines, there's concern that limits on Utica's water supply will stifle growth.
Paterson backs Brian Higgins' proposal that would keep excess energy profits from local hydropower in the region.
At Rochester Follies, publicmarketman writes that Mayor Duffy's budget is going to run the city into the ground.
Here are some things that won't happen if the M.T.A. capital budget is not funded.
In addition to the nascent Long Island succession movement, Rockland and Orange county would like to get out of the M.T.A. Both are unlikely to happen.
The transit union wants a bailout, since stimulus money is going towards capital projects.
Bloomberg said he doesn't think there's an effective way to collect the new 50-cent fee on taxis.
A Golisano-Pigeon front group that attacked Assemblyman Sam Hoyt in the last election has been fined for not disclosing spending to the B.O.E.
S.L. Green, among other firms, appears to be taking advantage of loopholes in campaign finance laws, writes Adam Lisberg.
Charlie Rangel endorsed Bill Thompson.
Through various exceptions and loopholes, 32,000 state employees got raises after Paterson's hiring freeze.
A firm hired by the city to consult of where pension funds would invest also manages $90 million of pension fund money.
Taxes could go way up in the next decade if pension costs remain the same.
Steve Ratner says he will finally break ground in September on the basketball arena that's part of the drastically scaled-back Atlantic Yards plan.
The part of the plan that includes residential and office space could be a long way off, writes Charles Bagli.
At Noticing New York there is much skepticism about the city's claim that Coney Island residents need more shopping opportunities.
Utah governor Jim Huntsman, a moderate Republican who David Axelrod recently said is the only Republican who could run in 2012, will become special envoy to China.
Accordingly, in an Irish Times piece about the decline of the Republican Party, Niall Stanage mourns the death of the New England Republican and writes, "the GOP could be entering the kind of doldrums from which the British Conservative Party is only beginning to emerge."