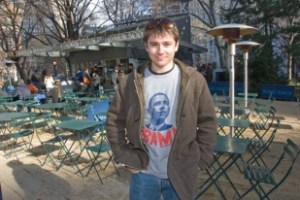 On June 2, the New York Tech Meetup will host the largest live showcase of New York technology and Web-based companies during Internet Week. They're calling it a "Demo Pit" and 60 city-based tech companies or coders of Web-based projects will set up shop in FIT's Great Hall from 3 to 6:30 p.m., the afternoon before the Tech Meetup's official presentation that evening. It will be one of the largest free, public events during the week, according to NYTM's head organizer, Nate Westheimer.
Mr. Westheimer (remember that now 26-year-old 'boy wonder'?), announced the event last night, during May 6th's NYTM at New World Stages on West 50th Street. The Meetup is a 9,500-member-strong, monthly meeting of entrepreneurs, venture capitalists and miscellaneous geeks and costs $10-a-pop to see five or six companies present their latest projects.

Last night, five New York-based tech companies presented at the Meetup, including tools like Zemanta, which automatically looks for keywords as the writer is typing out an entry and suggests links within the text (to Wikipedia articles or YouTube videos) for context and also finds "blogger-friendly" photos—all in real time. ActionMethod, a kind of LinkedIn social network for creative designers, displayed their project organization tool, as did data collection application exZact Data Collection, a video storage and publishing platform SesameVault, and RmbrME, a mobile service site that debuted its new iPhone application, BeamME Pitch. Meetup's Scott Heiferman also spoke about his recent trip to Irag with a delegation of tech entreprenuers to the sold-out crowd.
Attendance has been so high during these recent meetings, according to Mr. Westheimer, that they could afford to pay for the showcase and make the "Demo Pit" for Internet Week free.

"There was no sort of like center where you could go see everything about every New York start-up," Mr. Westheimer explained to The Observer. Visitors will be able to stroll down the Great Hall and visit each tech project's table, where they can demonstrate their work on laptops.
So no big screens projecting the work, like in regular Meetups?
"No big screens," Mr. Westheimer said. "We're trying to make this free for everybody, and be more commmunity-oriented. Everyone's equal."
New York Tech Meetup is an official sponsor of Internet Week, which takes place from June 1 to June 8 and is presented by the International Academy of Digital Arts and Sciences in cooperation with City of New York and the Mayor's Office of Film, Theatre & Broadcasting. This year, they are also partnering with Time Warner, Tumblr, Google, the New Museum, Columbia Business School and the Webby Awards for various events.
Mr. Westheimer said information would be available on the NYTM's official site to sign up this Thursday, May 6. Start-ups, companies and creatives working on a side project will submit them for consideration by category (mobile, nonprofit, etc.) and organizers will choose 10 companies from six categories so a diverse slew of New York tech is represented, according to Mr. Westheimer. He expects competition to be fierce, since hundreds of companies vie for a spot to present at the Meetup every month.
"It's all about people meeting you and seeing your cool stuff and stopping by and it not costing anything and showing off how frickin' cool New York tech is," he said.