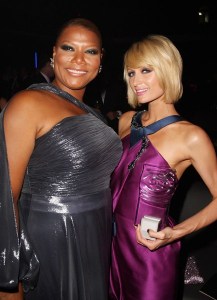 Manhattan's Downtown Armory normally reeks of sweaty atheletes.
On Wednesday, May 27, the place smelled of "Fairy Dust"—that is, Paris Hilton's signature perfume—and a mix of myriad other scents at the Fragrance Foundation's 37th annual "FiFi" awards ceremony, where designer Marc Jacobs was awarded Hall of Fame honors.

Among the many luminaries strolling the red carpet, Argentinean polo player Nacho Figueras, the face of Ralph Lauren's new ad campaign, "World Of Polo," stood out with his stunning looks and strong accent.
Properly sporting the same cologne he was promoting, Mr. Figueras boasted that out of all the polo players he knows, he smells the best.
This weekend, the dashing, musky-scented athlete will be competing against Prince Harry in the second annual Veuve Clicquot Manhattan Polo Classic on Governor's Island. "It's going to be an exciting game and a great thing for polo," he said.
Albeit probably quite smelly. Of course, Mr. Figueras naturally loves the stench of horses, he said. How do they smell? "They smell like horses!"
Of course, equestrian odor is nothing compared to the scent of a woman. "I think perfume on a women's neck is sexier than her wrist, because, well, the neck is a sexier part of a women's body," Mr. Figueras said. He paused, laughed, and added, "It gives you an excuse."
The ever striking Ms. Hilton took her time walking down the short carpet with her new boyfriend, Doug Reinhardt, perhaps best known for his dubious turn on MTV's The Hills, breaking up with Lauren Conrad and then making the moves on Stephanie Pratt. Mr. Reinhardt stood at the end of the carpet with his mother, Kelly Reinhardt, whose hair seemed even blonder than the towhead Ms. Hilton.
Mr. Reinhardt is a baseball player, but tonight, his mind was solely on Paris. "I love how Paris smells," he said. "She smells like roses."
His mother had nothing but nice things to say about the notorious heiress. "She treats him with so much respect," Ms. Reinhardt said. "I think respect is a very beautiful thing this day and age. He's very protective over her, and she's very protective over him. They laugh, and have fun, and they're wonderful together."

Ms. Hilton and her new beau were headed back to Los Angeles after the event. "Her BFF show comes out [on June] 2nd, so they have to get back for that," Mr. Reinhardt explained as he walked up the stairs into the hall. Mr. Hilton lingered on the carpet as long as possible, before she walked up the steps, blew the photographers, reporters, and random fans her signature kiss, and nearly walked right smack into the green fence at the top of the steps.
Queen Latifah was in a rush because she was the first to present, but seemed to recall her first perfume was "Obsession" and added that her new perfume is called "Queen," which comes out in September.
"It smells delicious, making me edible!" she said.
The actor Dustin Hoffman smiled for cameras with a noticeable band-aid on his finger that he received from cutting his finger on a plane. He gave a young male reporter advice and said, "Never listen to anyone. Don't take anyone's advice. Go by your gut, and do what makes you passionate. When it doubt—and this is mainly for the women," he said, staring down the Daily Transom—"when in doubt, don't. We raised six kids. When it doubt, don't."
Mr. Hoffman said he doesn't wear cologne, but admits he wears his wife Lisa Gottsegen's perfume by assimilation—perhaps appropriate for the cross-dressing star of Tootsie.
"I have never understood why women wear perfume on their wrists," Mr. Hoffman said. "I never smell a women's wrist, I always go for her neck, like Dracula. What kind of guy goes like this," he added, sniffing his wrist and asking, "'What are you wearing?' Would you go out with him? He smells your wrist. 'What?' you say. 'Who is this guy?'"
His wife and a nearby reporter both pointed out that it's because of the pulse point. "I never knew that!" Mr. Hoffman said.
Sean "Diddy" Combs, who was one of the last guests to arrive, casually walked down the carpet wearing a gray suit. He kept one hand in his pocket, and used the other hand as he talked.
"I think my first cologne was Old Spice, but I didn't buy it. It was for Christmas," he said.
When asked what smell he wishes he could bottle up, Mr. Combs replied, "This may not sound sexy, but I love how a baby smells."
If the recession were to be the name of cologne, he said, it would stink! "It stinks like garbage. It doesn't smell good. It affects us all. I have a business that goes to Middle America, if they feel the crunch, we feel the crunch, but we're tightening our boot straps, and we're making sure we're conscious and being there for the customers who have been there for us for over 10 years."
Like Mr. Hoffman, Mr. Combs didn't understand the whole wrist thing. "I don't get into really smelling the wrist, I'm probably more in the neck than I am the wrist, me personally," he said.
Had he ever dated a women wearing too much perfume? "No," he said. "I mean, I kind of test that out before I even get to that point, you know what I'm saying?"